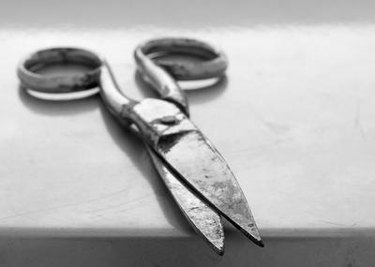 When organizing a ribbon-cutting ceremony for the opening of a business or organization, consider giving the owners a ribbon-cutting gift. Your gift should reflect your appreciation for the owners and help them feel confident about their new venture. Be creative and present the gifts at the ceremony.
Ceremonial Scissors
Order a custom pair of ceremonial scissors as a gift for the owners of the company or organization. You can order these from an online vendor (see References) and have them engraved with the company or organization name as well as the date of the ribbon-cutting. Some scissors come in a special box, which adds to the pomp and circumstance of this official event.
Chocolate Scissors
Order custom chocolates in the shape of scissors. This is a creative way to keep with the theme of the event. You can choose milk or dark chocolate and have the chocolate box stamped with a message or text to commemorate the event. Consider giving chocolates to employees who attend the event.
Custom Plaque
A custom plaque can feature a special message from the board of directors or senior staff. Include the owner's name and the date of the ribbon-cutting with the message. Choose a style of plaque that the owner can hang on a wall in her office, in materials such as wood, metal or glass.