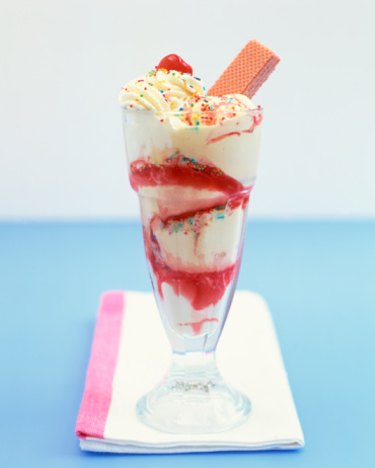 Make an ice cream lover's day with a special ice cream sundae-themed gift basket. Whether you want to surprise someone with an out-of-the blue gift, or you are celebrating a birthday, anniversary or holiday, an ice cream sundae gift basket is one that the recipient can enjoy and share with family and friends. There are so many varieties of sundae toppings and syrups that the possibilities of customizing the basket are seemingly endless.
Basket Bases
You can order ice cream sundae gift baskets online from a variety of basket retailers, but it is also simple to make one yourself. The first step to either ordering or making the basket is to decide on the base. Possible options include a large wicker basket, serving tray or even an empty gallon-size ice cream bucket. Dress up an ice cream bucket or other container with a decorative fabric ribbon and basket filler to add a special presentation to the gift.
Dishes and Accessories
To make an ice cream sundae, the recipient of the basket will need sundae dishes, so include a couple of decorative sundae dishes in a style you think the recipient will enjoy, such as a vintage soda shop style or ruffled-edged pastel colored dishes. Provide a sturdy ice cream scoop and a set of ice cream spoons to complete the sundae eating experience. Add a gift certificate to a grocery store to provide the ice cream, if desired.
Sauces
Many ice cream sundae eaters create sundaes first with ice cream and then with sauces. Include a few different types of sauce toppings in the gift basket. Traditional sauce toppings include hot fudge, caramel, butterscotch and strawberry; more adventurous sauce possibilities include passion fruit and coconut. Customize the sauces to the recipient's favorites, but don't be afraid to include a new topping for variety.
Toppings
Provide a variety of sundae toppings for the gift basket. Options abound, including nuts, fruit and candy selections. Some possibilities consist of maraschino cherries, crushed peanuts, slivered almonds, coconut shavings, chocolate candies, gummy bears and sprinkles. To narrow down the options, consider a theme, such as s'mores sundaes; include crushed graham crackers, chopped milk chocolate pieces and miniature marshmallows. Include a bottle or two of whipped cream to finish off the sundae gift.