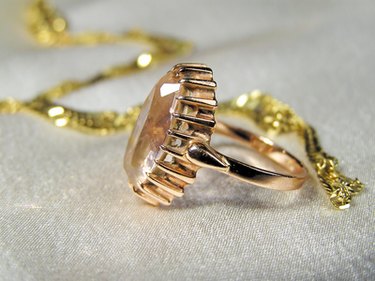 Every anniversary you celebrate with your spouse is a reminder of the time you have spent together. When you reach your 50th wedding anniversary, you have reached a huge milestone that not all couples reach. Traditionally, the 50th wedding anniversary gift is one made of gold. Knowing some different ideas of traditional anniversary gifts will help you choose the right gift to celebrate your special day.
Jewelry
Since gold is the recommended traditional 50th wedding anniversary gift, the easiest option is jewelry. When choosing the right gold jewelry, think about what your spouse wears. If your spouse does not wear a particular type of jewelry, such as watches or earrings, purchasing those as a gift may not be way to go. However, if she wears bracelets, you could purchase her a gold charm bracelet or a gold-and-diamond tennis bracelet. Or if she wears necklaces, consider a gold necklace. If you are purchasing for man, consider cuff links or a watch. When choosing the right gold jewelry, you can choose yellow gold or white gold, whichever your spouse prefers more.
Keepsakes
If you do not want to purchase jewelry, there are plenty of other gold options. For example, you can find golden roses made from gold leafing. These flowers never wilt, and make a beautiful display that will last a lifetime. Or find a gold-plated photo album or picture frame and fill it with a favorite photograph of the two of you. Gold-plated gifts, such as a jewelry box or paper weight, can be engraved with a special sentiment for your spouse.
Golden Destination
If you do not want to purchase a gift made of gold, you could plan a vacation to a "golden" location. For example, the Gold Coast Hotel and Casino in Las Vegas, Australia's Gold Coast or Golden Sands hotel in Dubai. Another idea is to plan a trip where you can pan for gold in California.