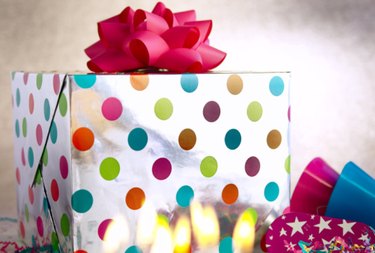 Brainstorming gift ideas for a soon-to-be-90-year-old woman who has everything can seem an intimidating prospect. Whether she's your grandmother, mother, wife, friend, or relative, you want to get her something special on this milestone birthday. But what? Learn how to buy gifts suitable for a 90th birthday for the woman who's reached this amazing age, but who already has everything she could possibly want.
Step 1
Ask the almost-90-year-old birthday girl about her past, while subtly trying to get her talking about past birthdays. Not only will you both have a great time talking about a time long gone by, but it's also the perfect chance to find clues about what she might want. Did she always wish for a bouquet of violets on her birthday? Gold-embossed birthday invitations? A whole box of chocolates to herself?
Step 2
Assess whether she's the kind of person to appreciate a gag gift. To do this, ask her if she's ever had a surprise birthday party, and whether or not she liked it. Someone who can laugh at being surprised might very well laugh at a humorous birthday present. Funny gag gifts give a gift that money truly can't buy -- laughter.
If she has a good sense of humor, consider getting her a book about turning 90. Go wild and get her 90 balloons and 90 party streamers to represent each year. Or try a T-shirt with a humorous saying about looking fabulous at 90.
Step 3
Buy her a gift steeped in nostalgia, since memories are another thing that are precious (and don't cost a lot). Assemble a leather-bound photo album for her woman with photos of her family and friends and go through it with her at the party.
Step 4
Buy her a trophy gift -- a gift that celebrates the fact that she's reached the milestone age of 90 and is rightfully proud of it. Jazz up a 90th-birthday gift clock with a balloon. Or get her the "sure thing" birthday present: a gourmet birthday gift basket filled with goodies she can nibble on for days.
Step 5
Whatever present you buy, present her 90th birthday gift with flair, ideally at a 90th-birthday party to commemorate what an achievement 90 really is. Any 90-year-old woman worth her salt will gladly accept the gift in the spirit with which it was meant.