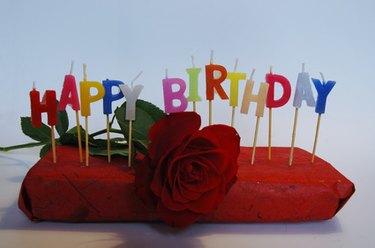 A 40th birthday is a milestone that deserves to be celebrated. If you're throwing a party for a woman turning 40, forget the "over the hill" banners and age-related jokes, and focus instead on the woman whose life you're celebrating. Even if the birthday girl is feeling some trepidation about reaching this milestone, you can help her have an enjoyable birthday she'll never forget.
40th Birthday Party Activities
Use the occasion of your friend turning 40 to remind her how special she is to you. Hold a birthday roast, asking all the guests ahead of time to plan on telling a funny or endearing story about the guest of honor--but make sure the guests know to keep their stories funny rather than mean. Plan a trivia game covering events that have happened during the last 40 years, or during the birthday girl's birth year. Put together a slide show or short video showing how the guest of honor has changed over the years; you can also play a game where guests have to guess her age at any given photo. You can even create your own "This Is Your Life" slide show using PowerPoint or similar software. Set up a karaoke machine and sing along to music from the decades when your birthday girl was a child and teenager. Have people come in costumes representing the year she was born.
40th Birthday Events
Take your friend out for a special day if you don't think a party will make her feel adequately celebrated. Try a day at a spa for her and her best girlfriends, complete with manicures, pedicures, facials and massages. Take her to a location that holds meaning for her, or somewhere she's always wanted to go. If you live near the water, consider a beach party or a celebration on a boat.
40th Birthday Decorations
Any milestone birthday deserves special decorating. Have old photos enlarged, including family photos, baby photos and yearbook pictures. Ask relatives if they have any old awards or trophies they can loan you for decorations--from sports trophies to diplomas--and create a diorama that celebrates your birthday friend. Have birthday guests write out postcards describing a happy moment they shared with the guest of honor, or a paragraph or poem describing what she means to them, and display these prominently around the party venue. Later, you can put the postcards together in a book that your friend will always treasure.