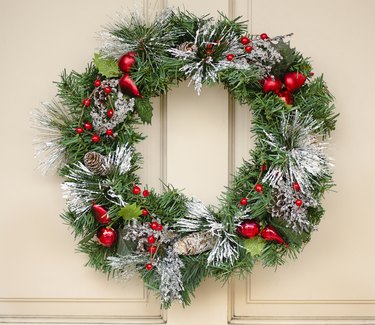 Old-fashion Christmas decor can really give your home a touch of tradition and whimsey during the holiday season. Some types of Christmas decor have been popular for decades and even centuries. The best thing about using traditional Christmas decorations is that they are often more economical then their modern store-bought relatives.
Pomanders
Pomanders are easy to make and they have been used to decorate at Christmas since the Middle Ages. Pomanders are also quite fragrant, which makes them versatile. To make a pomander use an orange, apple, lemon or lime, along with cloves. You will also need some traditional holiday spices like nutmeg, cinnamon and ginger. Mix the spices together in a bowl. Push the cloves in the fruit, and cover it completely. Roll it in the spices and then leave it in the spice bowl and place it in a dark, cool place to dry out. Check it every day to see if it has dried. Re-roll it in the spices each day to maximize the amount of fragrance it absorbs. Once it has dried, place them in a bowl as decor and tie holiday ribbon on each one for an added festive touch.
Popcorn and Cranberry Garland
Few things conjure up an image of an old-fashion Christmas like popcorn and cranberry garland. This is also an easy to make old-fashion Christmas decoration. All you have to do is make plain, unbuttered popcorn and get whole cranberries. Use a sewing needle and thread to string popcorn and cranberries. Generally, people will string more popcorn than cranberry because it is more economical; for example, you can string six popcorns, then use a red cranberry and repeat the pattern.
Holly
Holly has been used to decorate at Christmas for centuries. To Christians, the needle points on the holly leaves were used to represent the crown of thorns that Jesus wore when he was crucified, and the red of the berries symbolizes the blood he shed. You can hang holly alone or use it to make a wreath, candle holder or table centerpiece.
Nativity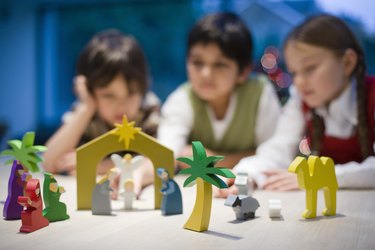 Adding a nativity to your Christmas decor can also help give your home that old-fashion touch. Nativity scenes are set up to tell the story of when Jesus was born. Traditionally, you are supposed to set up your nativity and refrain from adding the baby Jesus until Christmas Eve.