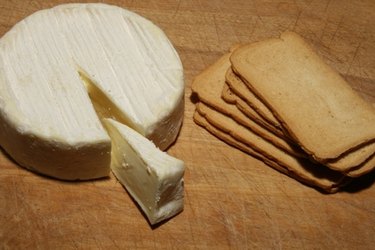 One of the most important aspects of any party is the food. Whether you are holding a large bash or an intimate soiree, plan a food platter that will please party-goers' palettes, regardless of their preferences. Serve plenty of fruit and vegetables for your vegetarian friends, and dairy-free options for loved ones who may be lactose intolerant. By serving a wide variety of treats, you will make all of your guests feel welcome and satisfied.
Fruit and Cheese Platter
If you are holding a sophisticated and classy affair, prepare a fruit and cheese platter, complete with a wide variety of cheese and seasonal fruit. Choose a soft-ripened cheese such as brie, a semi-soft cheese such as bleu and a few hard cheese options, such as cheddar and Swiss. Place the entire brie wheel on the tray and provide knives for cutting. Slice or chunk semi-soft and semi-hard cheese before serving. For the tastiest fruit, serve varieties that are in season, such as pears and apples in the fall. Bunches of green and purple grapes complement cheese trays while providing a pop of color. You can also serve bowls of dried fruits, such as cranberries, cherries and raisins. Be sure to provide plenty of crackers and bread along with the tray. Wine makes a nice beverage accent to choose platters as well.
Sandwich Platter
With so many varieties to choose from, sandwiches are the perfect addition to any party platter. Instead of serving basic sandwiches such as peanut butter and jelly and grilled cheese, delight your guests with gourmet options. Make sandwiches on a variety of breads, such as tuna salad on rye, roasted vegetable on focaccia and ham and brie on french rolls. Mix it up by serving hot panini, wraps, and pinwheels, which are tortillas that are filled with meat and cheese, rolled, and cut into wheel shapes. If you are hosting an elegant luncheon, serve traditional cucumber and cream cheese sandwiches, delicately cut into little squares or triangles. Serve the sandwiches with a variety of spreads, such as sundried tomato, pesto, hummus and spicy mayonnaise, so that guests can customize their selections.
Finger Foods Platter
Serving a finger food platter allows guests to socialize and relax while they munch on a mix of party treats. Get creative when planning your finger food menu, and consider making miniature versions of classic favorites, such as quiche and crab cakes. Deviled eggs make filling appetizers, and can be fancied up with the addition of sliced black olives on top. For an Italian-themed party, serve focaccia bites and calzones, and make guests' mouths water with wontons and fresh shrimp summer rolls during a soiree with an Asian flair. For vegetable lovers, serve stuffed mushrooms or refreshing watermelon and tomato skewers drizzled with olive oil and balsamic vinegar.