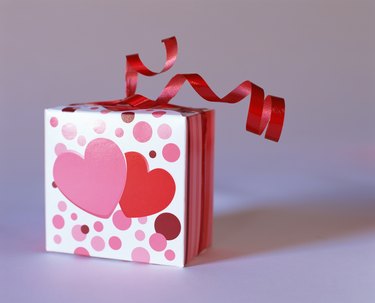 Valentine's Day is certainly a holiday that's geared toward women. Men don't have much use for stuffed puppies or those chalky candy hearts. But while it's easy to get swept up in pink ribbons and red roses, we can't forget the manly half of our couple on V-Day. Why not thank our doting men with gifts that they'll actually enjoy.
Gifts for Couples
The ultimate couple's Valentine's Day gift would be a vacation or quick getaway for the two of you. Consider a long weekend at a sweet bed and breakfast or even a cruise, if you can both afford the time off. If a vacay is too far out of your price range, consider a romantic dinner cruise for two. Another great "together" gift is a couple's massage. Check your local spas for special combo pricing or Valentine's Day deals. SEE REF 1
Gifts for the Foodie
A universal guy gift that will always be appreciated is food. Amazing Clubs offers gifts that continue to bestow bliss throughout the whole year. Their Microbrew of the Month Club delivers 12 microbrews each month. Other great clubs include the Hot Sauce of the Month Club and the BBQ Sauce of the Month Club. Search for even more at amazingclubs.com.
Gourmetgiftbaskets.com offers a ton of assortments to choose from, including marinating, Italian and Tex-Mex baskets. If your guy has a sweet tooth, order the over-sized, Belgian milk chocolate-dipped fortune cookies from 1-800-BASKETS. For the grill master, order a monogrammed branding iron from personalizationmall.com, so your man can mark his meat after grilling.
Additional Ideas
Just about any guy would appreciate a universal remote or cigar case and cutter set. For the athlete in your life, consider a golf pass or lessons. For your gamer at home, consider a new gaming console he has yet to purchase. If you and your boy have a weekly Game Night, you can order a create-your-own Opoly board game kit from hammacher.com. The kit includes software for you to design playing pieces, property and cards.
Cloud9living.com allows gift certificate recipients to choose gifts ranging from adventurous to cultural, with locations all across the country. Amazing options include racing a Ferrari, DJ lessons, stunt workshop and nighttime white water rafting.