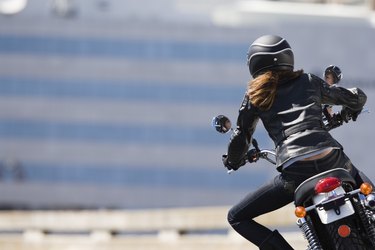 Real bikers wear heavy leather to protect their skin while they are riding their motorcycles. When you are putting together a biker chick costume, you can keep the leather and add to it fun, motorcycle-inspired accessories. A biker chick costume can be sexy or silly depending on the items you choose.
Leather Jacket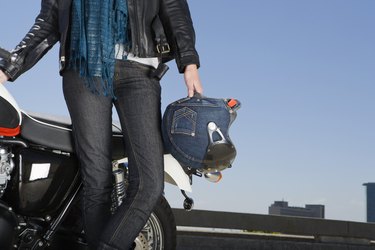 A black leather jacket is the quintessential biker accessory. Motorcycle jackets are form fitting to cut down on wind resistance. The zippers and buckles on the jacket should be heavy and silver-tone for a biker girl costume. Try looking in resale shops to find a great deal on an older leather motorcycle jacket.
Shirt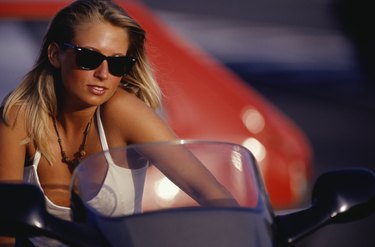 A plain white t-shirt is perfect for a biker chick costume. The white of the shirt and the black of the jacket create an attractive contrast. Motorcycle brand T-shirts are another option.
Bottoms
Form-fitting black pants or black skirts work well in a motorcycle babe costume. While real biker women would not be likely to wear skirts because of safety concerns, for a costume, skirts can show off the legs in an appealing way. If you decide to wear a skirt, consider adding some sexy fishnet stockings.
Boots
Real motorcycle boots have a heel to rest on the foot peg of the bike. For a costume, you can choose any type of boot that you would like. The best options are tall boots. Heavy low-heeled boots with zippers and straps make for a funkier look, while high-heeled boots provide a sexy look.
Jewelry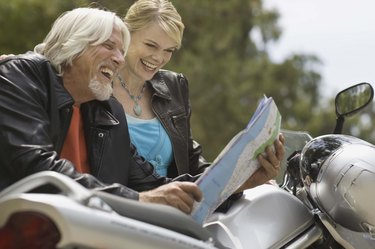 For a biker girl costume, jewelry should reflect the rest of the outfit. Items such as studded bracelets, black leather chokers and skull rings can be added to your costume as desired.
Head Covering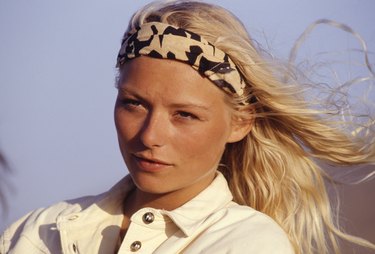 The head covering you use with your biker chick costume will have a big influence on the overall appearance of the look. A black leather or black vinyl biker hat is one way to go. These hats have a visor and usually incorporate some silver chain. Another option is to wear a bandanna as a head covering. Traditional red bandannas can be found in most craft stores.
Fake Tattoos
Tattoos are often associated with bikers. But you don't need to make a lifelong commitment for your biker babe costume. Fake tattoos with skulls, motorcycle logos, barbed wire and hearts can be applied to any part of your body.