Things You'll Need
Black gloves

Black knit headband

2 pairs of tights (black, brown or red)

Pants (same color as tights)

Long-sleeved shirt (same color as the tights)

Black or other dark-colored shoes

2 pipe cleaners

4 rubber bands

Soft fiberfill

2 cotton balls

Needle and thread

Safety pins

Scissors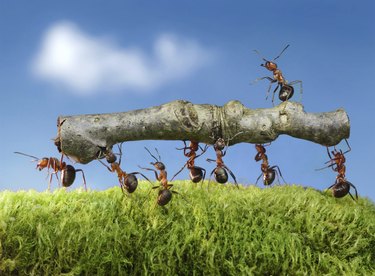 Join the witches, monsters and ghouls on Halloween by becoming a creepy crawler. Make a black, brown or red ant costume with minimal sewing, using clothes and other items from your old-clothes bin or resale shop. Whether you create a costume for a child or adult, these ants will have no trouble finding sugar during trick or treat.
Step 1
Make ant legs out of the tights by cutting off the legs at the panty line. The legs should be about three-fourths of the length of the outstretched arm of the person wearing the costume.
Step 2
Stuff the legs with fiberfill until they hold their shape. Stitch the opening closed with needle and thread.
Step 3
Make joints in the legs by twisting each leg in the middle several times to make two sausage-like sections. Hold the joint in place with a rubber band.
Step 4
Ask the costume wearer to put on the shirt and pants to help gauge where the ant legs should be attached. With the legs facing forward, pin a leg to each side of the shirt at about waist level, and to the pants at the outside of each knee.
Step 5
Test the comfort and safety of the costume by having the wearer move around. Make sure they can move freely without tripping and use their arms unimpeded. Reposition the legs if necessary. Sew the legs to the clothes with needle and thread and remove the pins.
Step 6
Curl the end of each pipe cleaner into a circle to make antennas. Stick the the pipe cleaner through a headband and sew in place.
Step 7
Stitch a cotton ball to each side of the headband to make bug eyes.
Tip
Create sections on the ant body by stuffing towels in the shirt and pants to add girth, then cinch with a belt around the waist. If it's cold wear a stocking cap under the headband and extra clothes under the shirt and pants; if it's hot omit the gloves and towel stuffing and wear tights instead of pants. Use the remaining tights material instead of pipe cleaners for antennas: Cut, sew and stuff two 5-inch long rectangles; sew to headband.