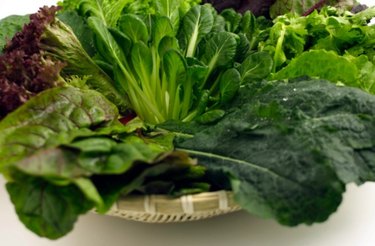 Bacon-wrapped chicken can be a smoky, juicy and tender way to prepare chicken that pleases many people. Many people enjoy both meats and the bacon imparts more flavor into the chicken, while the fat can keep the breast juicier as it cooks. Side dishes for bacon-wrapped chicken are many and can be adapted to all seasons, since both meats work well with many types and flavors of food.
Salads
A salad made with greens like romaine or butter lettuce mixed with raw spinach, red peppers, sweet onions or scallions is a good way to start the meal. Spinach and bacon are natural together and you could even create a bacon dressing to tie the flavors of the salad together with the rest of the meal. Once the chicken breasts have baked, drain off the excess fat created by the bacon and mix it with red wine vinegar, a little sugar, Dijon mustard and salt and pepper. Dress and toss the salad just before serving.
Starches
Baked potatoes combine well with bacon and baked chicken, especially in the cooler months in the fall and winter. Many people dress their potatoes with butter and sour cream. You could also prepare a polenta ahead of time and fry it in the remaining bacon fat to give the crusts a crisp texture. Polenta is made from coarsely ground cornmeal and is easy to prepare ahead of time. You can use chicken broth as the liquid to prepare the polenta to tie it into the meat entree. Some people also enjoy thin spaghetti tossed with olive oil and sprinkled with grated fresh Parmesan cheese with bacon and chicken.
Bread
Eating bread with a meal is a custom for many. You can serve hot, grilled garlic bread with bacon-wrapped chicken breasts, cornbread if you are not serving polenta or dinner rolls with butter and a jelly for those with a sweet tooth. Whole-wheat rolls have more vitamins, fiber and flavor than white dinner rolls. You could also serve crunchy or moist bread sticks with the meal and even provide a tomato-based dipping sauce for the bread sticks, since tomatoes complement both chicken and bacon.
Vegetables
In lieu of serving polenta, fresh corn can be a sweet vegetable to serve with bacon-wrapped chicken breasts since the sweetness in the corn enhances the flavors of the bacon. Roasted red peppers sprinkled with Greek or black olives, feta cheese or slivers of grated Parmesan are also a flavorful, nutritious and colorful addition to this type of meal. Steamed asparagus goes well with the flavor of both chicken and bacon. If you're not using the extra bacon fat for anything else, sauté some Swiss chard in it to add more flavor to this vitamin-rich green. Steamed zucchini with red or yellow peppers and a touch of garlic, dressed lightly with olive oil, is also good with bacon and chicken.