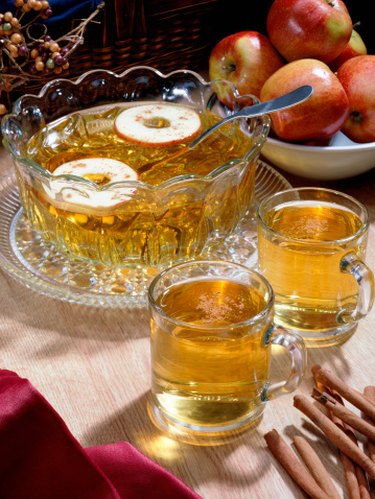 Apple cider can be sweet or hard. Sweet cider is unfiltered apple juice, containing no alcohol. When fermented, sweet apple cider becomes hard cider with at least 0.15 percent alcohol. Both types of cider can be served warm or chilled. Hot apple cider is a warming beverage for the cold fall and winter months when apples are in season and made into cider. Seasonal foods from these months and recipes incorporating warm spices pair well with apple cider.
Cheeses
Like cheddar cheese with apple pie, strong cheeses pair well with apple cider. MatchingFoodandWine.com suggests combining apple ciders with camembert and cheddar cheeses and dishes made with those cheeses, such as cauliflower cheese. Cauliflower cheese is a British dish similar to macaroni and cheese, using cauliflower for the macaroni. Serve cauliflower cheese or macaroni and cheese with warm apple cider for a filling meal.
Ginger Cookies and Sweets
Epicurious suggests serving triple-ginger cookies with hot apple cider as part of the dessert course to round out a post-skiing menu. The ginger in the cookies is often added to spiced apple cider recipes for extra flavor. A second dessert option of honey-caramel ice cream sundaes with apples is also suggested. Apple cider will naturally pair with the apples in this dessert. Choose a sweeter apple cider instead of a dry hard cider to pair with the ginger cookies and other desserts.
Pork Chops
Pork chops, especially when served with apples or applesauce, can be served with a warm apple cider. Chow.com notes that pork chops naturally pair well with the flavor of apple cider. Apple cider will also pair with other pork entrees, such as pork sausages or pork roast. Fruity and acidic apple cider cuts through the fatty, rich flavor of the pork, which explains the frequent pairing of apples and pork.
Quiche
Creamy egg pies, known as quiche, can be served with warm apple cider, as suggested by MatchingFoodandWine.com. The site recommends quiche made with leeks or bacon and Swiss cheese quiche Lorraine. A warm, non-alcoholic apple cider could stand in for hot coffee for a breakfast or brunch menu with the quiche or serve a hard cider with the quiche for a light supper. As ham and chicken pair well with the cider, any quiche recipe including these ingredients could also be served.