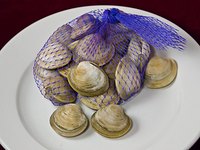 Cooking clams for the first time can be a little intimidating. When purchasing clams, look for tightly-closed shells. Clams must be cooked live. If the shell is chipped, broken or even slightly open there is a good chance the clam is dead. Eating a dead clam can make you very sick. Once you get the clams home, unwrap them and store them in the refrigerator until you are ready to clean them. It is best to use clams the same day you purchase them. Steaming is a simple method for the new cook to learn how to cook clams.
Things You'll Need
4 dozen littleneck or steamer clams
Large bowl
Cool water
Salt (optional)
Small scrubbing brush
Large pot with a tight-fitting lid
3 tsp. olive oil
3 cloves garlic, chopped
2 cups water or clam juice
1 cup dry white wine
1/4 cup chopped fresh parsley or 1.5 tbsp. dry parsley
Salt and pepper to taste
Tongs or a slotted spoon
Scrub the clams with the scrubbing brush under cool running water to remove any dirt or sand from the shells.
Place the clams in the bowl and cover with water. Add about 1/3 cup of salt and stir well. Let the clams soak for at least 20 minutes. If you plan to use the clams today, repeat this process 2 more times. If you plan to use the clams tomorrow, you can let them soak in the bowl in the refrigerator overnight.
Heat the olive oil on medium-high heat until hot but not smoking.
Add the chopped garlic and cook for about 5 minutes, stirring constantly, until the garlic is soft. Without stirring, the garlic could quickly burn, which will ruin this dish.
Add the water or clam juice and wine to the pot. Turn up the heat to high and bring the broth to a simmer. The broth is simmering when little bubbles form around the sides of the pot. Add the clams and cover the pot.
Steam the clams for 10 minutes. Remove the clams from the broth with the tongs or the slotted spoon. Discard any unopened clams. Add the parsley to the broth. Salt and pepper the broth to taste.
Place the clams in individual serving bowls; ladle broth over them.