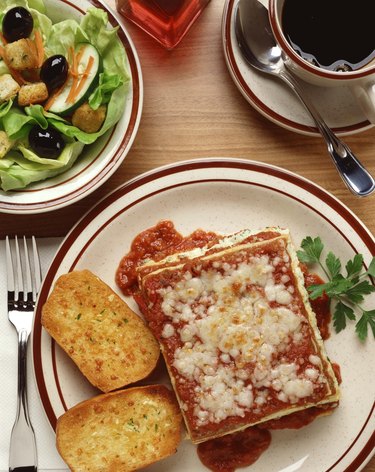 Garlic toast and a green salad are among the first dishes to come to mind for many cooks when trying to decide on sides for a lasagna dinner. While you can't go wrong with these choices, numerous other options also complement your pasta main course. Fix green vegetables for a family meal, or create a company-worthy dinner with steamed asparagus, tomato and basil or a colorful melon ball fruit dish. Keep your sides light and fresh, and avoid heavy sauces, such as cheese sauce for the broccoli, since most lasagna dishes are already filling and cheesy.
Side Salads
Go to virtually any Italian restaurant in the U.S. and order lasagna, and you're all but guaranteed to get some type of green salad as a side dish. At home, you can replicate the standard iceberg lettuce topped with tomato wedges, or you can get more creative. Mix a variety of fresh greens, add cherry tomatoes and top with a light balsamic vinaigrette. Top fresh spinach leaves with a little mozzarella cheese and olives, then drizzle with a zesty Italian dressing. Another sure-fire Italian side dish is slices of tomatoes topped with fresh mozzarella or provolone cheese and basil.
Veggies Galore
Steam or roast vegetables to accompany a hearty lasagna meal. Green beans, asparagus or other green vegetables not only compliment the Italian seasonings of the lasagna, but they also provide color contrast on the dinner plate. Make balsamic-glazed green beans, or steam them with a little salt and pepper and serve them with slivered almonds. Serve steamed broccoli plain or with a little butter. For a more filling alternative, roast carrots, mushrooms, onions or thin slices of colorful bell peppers; drizzle the veggies with a little Italian dressing and sprinkle with grated Parmesan cheese.
Hot From the Oven
For many people, a lasagna dinner is not complete without hot, crusty bread fresh from the oven. Serve plain or garlic-topped bread sticks, crunchy dinner rolls or a large loaf of crusty Italian bread. Offer olive oil for dipping the bread sticks or pieces of warm bread, or serve with plain butter or garlic butter. As a less filling alternative, offer small pieces of seasoned Melba toast or toast rounds.
Something Different
When you're feeling adventurous, offer your dinner guests or family something different with their lasagna. Instead of a vegetable side dish, serve sliced pears topped with finely shredded mozzarella cheese. Make a crunchy Waldorf-style salad with pieces of apples, grapes, celery and nuts. Cut a variety of colorful melons into bite-sized pieces or make melon balls and serve them with a bit of vanilla yogurt or poppy seed dressing for a cool, refreshing contrast to the lasagna. Use your favorite mushroom recipe to make sauteed mushrooms or flavorful mushroom caps with seasoned bread crumbs and bits of bacon.