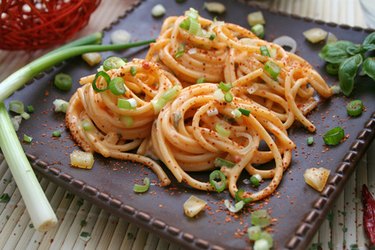 Orange roughy is a fish named for its bright orange skin. Its meat is mild, firm and holds up well to freezing. From simple lemon butter to spicy Cajun style, orange roughy is a versatile fish that can be paired with rice, vegetables, pasta or potatoes for a satisfying, flavorful entree.
Rice
If you prepare your fish using a strong flavor such as Cajun seasoning, tangy salsa or wasabi, a simple, steamed white rice will balance the lively flavors of the fish. If you are working with a milder fish seasoning such as lemon butter, infuse your white rice with orange or lemon juice to add brightness and tang to the side dish. For an earthier flavor and more dramatic presentation, select a wild rice mix. While wild rice has a subtle flavor, the colors and shapes of the grains create an aesthetically pleasing side dish. If you are health-conscious or interested in increasing the nutritional profile of your meal, consider pairing the fish with brown rice. Add flecks of fresh herbs that complement your fish seasoning. Cilantro, thyme and dill work well.
Vegetables
Grilled fish pairs well with grilled vegetables. Try barbecuing or roasting seasonal vegetables such as asparagus, broccoli, sweet potatoes, or red and green bell peppers. Simply brush with olive oil and season with salt and pepper. For a quick meal, saute frozen vegetables in garlic and butter until heated through, then serve immediately with your fish. If you are battering and frying your fish, the traditional accompaniment is french fries. Make your own by cutting white or sweet potatoes into matchsticks then season and bake. Potatoes can also be made into a gratin using flour, milk and cheese for a tasty side dish.
Pasta
The mild flavor of orange roughy makes it ideal for a cream- or tomato-based sauce. Seafood linguine can be prepared using linguine noodles, a simple white sauce and a fish fillet crumbled into the sauce or laid atop the bed of noodles. Alternatively, a pasta Puttanesca awakens the subtle flavors of the fish using capers, olives and anchovies over spaghettini pasta. You can also serve orange roughy with a baked pasta such as ricotta-stuffed shells or spinach cannelloni. Simple broil, steam or bake the fish with lemon and butter then serve alongside the pasta of your choice. Keep seasonings to a minimum if you are using a full-flavored pasta sauce.