When most people think of chili, thoughts of tomatoes often come to mind. Tomatoes, after all, are a staple ingredient of traditional chili. But if you'd like to switch things up — or if you simply don't have any canned tomatoes — try this hearty white chicken chili. It calls for a generous scoop of sour cream, resulting in a comforting and creamy chili that's hard to resist. The best part? You can make it in just three easy steps. Read on to learn how!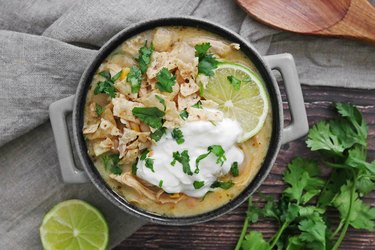 Things You'll Need
2 1/2 cups chicken, shredded

1 tablespoon olive oil

1 small yellow onion, diced

2 garlic cloves, minced

3 cups chicken broth

30 ounces canned white kidney beans

15 ounces canned corn

8 ounces canned green chiles

1 teaspoon salt


1 teaspoon black pepper

1 teaspoon dried oregano

1 teaspoon cumin

1/2 teaspoon chili powder

1/4 teaspoon paprika

3/4 cup sour cream

1/4 cup heavy cream (or more sour cream)

Sour cream, cilantro, lime, tortilla chips (for topping)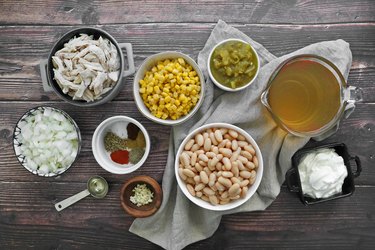 Tip
You can use rotisserie chicken for this recipe. Alternatively, if you'd like to cook the chicken from scratch, you'll need 1 pound of boneless and skinless chicken breasts. Boil, bake or fry the chicken until cooked and shred with your fingers.
Step 1
In a large pot over medium-high heat, warm the olive oil. Cook the onion for 5 to 7 minutes or until tender and golden brown. Add the garlic and cook for 1 minute.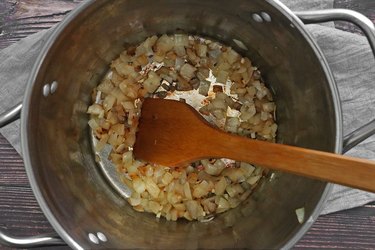 Step 2
Add the shredded chicken, broth, white kidney beans, corn, chiles and spices to the pot. Bring to a boil then reduce the heat. Simmer for 20 to 25 minutes, mixing frequently.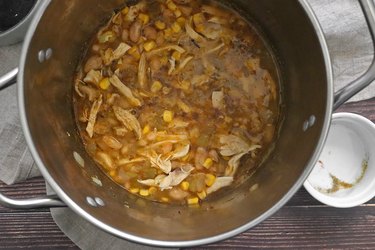 Step 3
Add the sour cream (and heavy cream, if using). Mix until the broth is opaque and creamy. Taste the chili and add more spices and sour cream, if you'd like. You can even toss in a few handfuls of spinach for an extra punch of nutrients.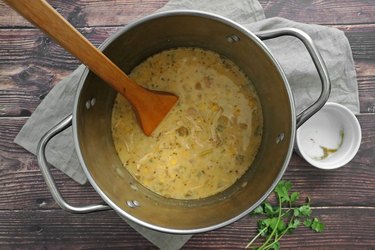 Serve with a dollop of sour cream, fresh cilantro and crushed tortilla chips. Drizzle with lime juice and enjoy.