Things You'll Need
Yogurt

Glass bowls

Bamboo skewers

Large serving plate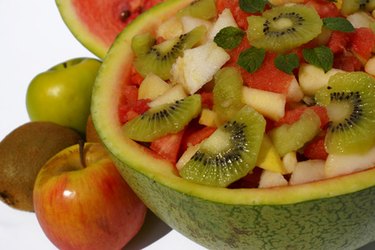 Quiche is a savory and delicious dish made with milk, cheese and eggs baked in a pie crust. Of course, there are multiple variations of quiches. Common additions include vegetables such as spinach and meats such as bacon or sausage. Quiches can be served at any time but are a common breakfast or brunch item. To create a well-rounded meal, serve fruit with your quiche for breakfast.
Step 1
Serve a bowl of fruit with your quiche. Include bananas, strawberries, grapes and kiwi fruit. This is just one variation of a fruit salad. If you prefer berries, consider a fruit salad of blueberries and blackberries. A fruit salad is a classic breakfast dish that will nicely accompanying the type of quiche you are serving. Place a large bowl of fruit next to the quiche.
Step 2
Mix together melon chunks (like cantaloupe or honeydew), watermelon chunks and yogurt. Instead of melon chunks, consider making melon balls as a fun alternative for the salad. The texture of the yogurt will complement the fruit as well as bring a new flavor to the mix. Serve the fruit and yogurt in small glass bowls. Consider creating a parfait with these flavors by layering the fruit and yogurt in tall glasses.
Step 3
Make fruit kebabs to serve with your quiche for breakfast. Cut pineapple, kiwi fruit, strawberries and mango into small chunks. Add the chunks to bamboo skewers, alternating the type of fruit. The number of skewers and amount of fruit you need depends on how many people will be eating breakfast. Arrange the fruit kebabs on the middle of the table on a large serving plate. It's a lovely and colorful display and that makes it easy for people eating breakfast to pick them up while eating the quiche for breakfast.