Things You'll Need
Plastic wrap

Freezer paper

Paper tape

Ziplock freezer bag

Marker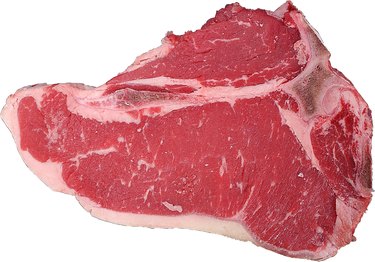 Ribeye steaks are a popular cut of meat, but they're frozen in the same manner as other steaks. The first, and most important, aspect of freezing steaks is to make sure they are wrapped properly. When steaks are not wrapped correctly, moisture will escape and can cause freezer burn, which makes your ribeye steak dry, discolored and unappetizing (though still good to eat). Proper wrapping and freezing will keep your ribeye steaks palatable for a long time.
Step 1
Cut off a piece of kitchen plastic wrap large enough to completely overlap the ribeye steak(s) you intend to freeze. Wrap the steaks, making sure all the meat is covered.
Step 2
Tear off a piece of freezer paper, found on rolls at the grocery store, and wrap the steaks as you would a gift. Tape the ends with paper tape.
Step 3
Mark the package with "ribeye steaks" and the date. Steaks should be eaten within five months in order to avoid freezer burn.
Step 4
Place the wrapped steaks into a ziplock freezer bag and close it. Place the ribeye steaks into the freezer.
Tip
If your steaks are prepackaged, in the segments you want, you can simply wrap them in freezer paper and then put them in a ziplock freezer bag.