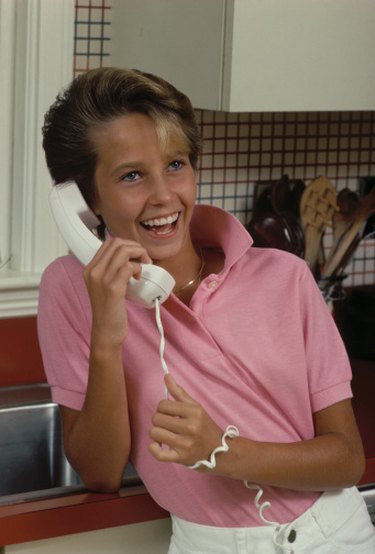 The 1980s introduced us to Pac-Man, MTV and a host of trendy fashion styles. Some schools invite students to dress in period clothes for a day by hosting an "'80s Day." Both men's and women's fashion in the early 1980s featured bright-colored oversize shirts and tight-fitting pants. Choosing the right clothes for the day can be fun and somewhat challenging. Consider some 1980s-inspired fashions to wear on "'80s Day."
"Miami Vice" Style
Pop culture, including the television show "Miami Vice," had a big influence on 1980s men's fashions. The leading men, Don Johnson and Phillip Michael Thomas, wore pastel colored suit jackets over casual T-shirts. This trend caught-on in mainstream fashion and young men started sporting similar outfits. Wear a T-shirt under a suit jacket for '80s Day to look like the men of the era. Wear deck shoes without socks and Ray-Ban Wayfarer style sunglasses to complete the look.
"Like a Virgin" Style
Madonna, the pop singing sensation, greatly influenced women's fashion in the 1980s. Madonna burst onto the music scene with her song "Like a Virgin" and the accompanying music video. Madonna wore lace bras and bustiers as outerwear and accessorized with over-sized jewelry. She also wore lace gloves, which were sometime finger-less, fluffy skirts made of lace or tulle and chunky belts. Girls started dressing in a similar fashion in the 1980s. Choose this style of clothing for an '80s Day outfit. Wear a lot of lacy clothes over leggings. Accessorize with chunky necklaces and belts and wear stacks of rubber bracelets.
Heavy Metal Style
Heavy metal of the 1980s introduced both a music and a fashion style. Heavy metal rockers sported "big hair" hair-dos, black leather pants and shredded band T-shirts. Some rockers wore tight, tattered jeans and leather jackets. Create a heavy metal style for '80s Day by wearing theme-appropriate clothing and by sporting a "big hair band" wig. Mullets were also a part of the rock scene of the 1980s.
Other '80s Ideas
Another way to dress for '80s Day is to wear a T-shirt with neon-colored sayings or images on it. Or wear an oversize sweatshirt with shoulder pads and acid-washed jeans. The 1980s prime time soap opera "Dynasty," starring Joan Collins and Linda Evans, made displaying wealth a trend. The stars of the show wore expensive dresses and suits and accessorized with extravagant and flashy jewelry. The women of Dynasty wore extravagantly adorned, batwing sleeved dresses with large shoulder pads. The men wore tuxedos and business suits with silk ties in a solid color such as red or gold. These were often called "power ties." Look for these types of outfits at thrift stores. Designer names such as Ralph Lauren and Guess became popular too. Wear sweatshirts and other clothing items displaying these names and logos for '80s Day attire.