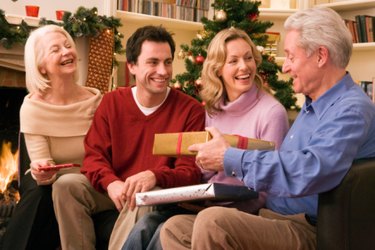 When a new daughter-in-law has come into your family, it is important that she feels welcome. Therefore, when the holidays, her birthday or another event comes around, give her a gift just as you would give other members of your family. Choose something that will complement her personality, her style or a hobby of hers when you select her gift.
Family Heirloom
Give your new daughter-in-law a family heirloom as a way to welcome her to the family. You could choose something valuable and expensive, such as a piece of jewelry or even a piece of furniture. On the other hand, the item could be mostly sentimental. For example, give her an antique tea pitcher used by her new husband's grandmother.
Collectible
Another idea is to start a tradition with the gift you choose for your new daughter-in-law. Choose a collectible item for her and give her the same item each time you give her a gift. For example, you could give her Depression glass items, decorative plates or something else. Before you start this tradition, however, it is important to find out if the items are something she would like to collect. Otherwise, the tradition could be an unwelcome one.
House Item
If your daughter-in-law and your son have just gotten married, maybe they still need some items for their home. They likely got lots of gifts for their wedding, but there may be something that they did not receive. Choose a kitchen appliance or a piece of art for their new home. Another idea is to select something for their yard, such as a hammock or a decorative flower pot.
Cookbook
Help your new daughter-in-law feel like part of the family with a cookbook. Make the cookbook yourself by purchasing a blank cookbook from a local bookstore. Write all of the recipes inside the cookbook of the most popular dishes within your family. Not only will she be able to cook these familiar meals for her new husband, she will understand more about your family traditions.