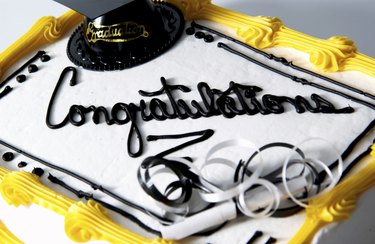 Graduation is an exciting time, filled with family, friends and celebration. It's a time for the graduate to reflect on your achievements, to look forward to the future and to enjoy time with close friends and family. Graduation often calls for a party, which calls for a festive cake with handsomely scrolled message.
Choosing the Right Cake
Graduation is one of the most exciting events of a young person's life, which is celebrated in many ways from from partying with friends to a party at a home or an alcohol-free party organized by the school parents and held at a fun places such as a theme park. Parent-involved graduation parties reduce the elevated drunk-driving dangers on grad night. Displaying a cake, whether a large sheet cake or a tiered confection, on the party's buffet table is traditional. If it solely honors your graduate, then take into account his tastes. The cake might even be designed in the shape of something that symbolizes his future plans, such as portrayed in images of football, piano and other themed graduation cakes at CakeCentral.com. Other prefer to focus the cake's theme and message on the accomplishment. If the cake honors several grads, choose classic flavors, perhaps one for each layer. For an extra special touch, frost the cake in the school colors. Finally, if your child is attending a big party, you can always bake a cake for a small celebration with family and close friends later.
Decorating Yourself vs. Bakery Decorations
If you're ordering a cake from a grocery store or bakery, chances are you can pre-order it with a message written on the cake. If you're making a cake yourself, you'll have to take a few extra steps to write on it. A simple way to write on a cake in icing is to trace the letters on the cake with a toothpick, then use a pastry bag to ice over where you traced. Practice first on a waxed paper, adjusting the icing consistency and color as needed.
Creating the Message
The message on your graduation cake should be short and sweet. A simple message like "Congratulations, Graduate!" gets a heartfelt thought across in few words. You can also write things like "Class of (Graduation Year)" or "You Did It!" or the word "Congratulations" followed by the grad's name. Choose a message that's meaningful without taking up too much space. Your cake's message should be happy and personal, but simple.
Editing the Message
There are a few common mistakes you can make in deciding what to write on your cake. First, don't make it too complicated. A cake with too much writing looks messy and unappetizing. Next, stick to one message. Even if you like all three phrases: "Congrats," "Dream Big" and "Great Job," pick just one, or your cake will look confusing. Finally, doublecheck your spelling, either at the store when you order the cake or when you're tracing letters onto your own cake.Gently remove mistakes, smooth the frosting and start over. A misspelled word on a cake celebrating graduation from school might seem funny in an ironic sort of way but it's not the kind of humor you want on this special cake.