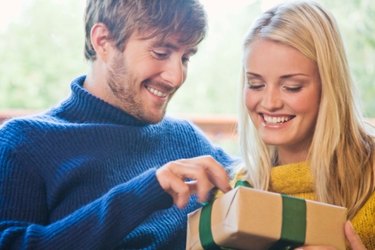 Fun birthday celebrations are not reserved for the very young. Just because you are in your 30s does not mean that you have to give up exciting birthday activities. When you are planning birthday festivities for someone in your life, remember that while parties are always fun, there are also lots of other ways to mark a birthday.
Back to Childhood
Consider having a party that takes the 30-something person back in time. Throw a "back to childhood" party in which all of the adults play games that they probably remember from birthday parties years before. For example, play pin the tail on the donkey, have a three-legged race and rent a bouncy house from a local party rental store. While these games will be fun for a light-hearted group of adults, they might be even more interesting with the addition of alcohol, which unlike children, people in their 30s are allowed to drink.
Decade Costume Party
Consider throwing a costume party for the person in his 30s that honors the decade in which he was born. For example, if he was born in the 1980s, everyone can dress up as their favorite 1980s icons, such as Cyndi Lauper or a member of an '80s hair band. Decorate with neon colors, bake a cake and pipe the number of the year of his birth onto it. Play plenty of 1980s music all night long.
Trip
Some people might not particularly enjoy birthday parties thrown in their honor, or might want to do something different. If that is the case, consider going on a trip for a 30-something birthday. For example, you could go on a trip to a tropical vacation where the person can relax and enjoy a stress-free birthday. Another option is to take a trip to a city that is known for having great night life, such as Las Vegas or New York City. Many people in their 30s are established and can afford trips like these, whereas they could not in earlier years.
Sports Event
When the person who is having a 30-something birthday enjoys sporting events, consider celebrating the birthday with a sports-themed festivity. For example, if the birthday falls during the season when his favorite sports team is playing, consider purchasing a few tickets to a game so that he and his friends can go watch a game. You could also choose another sports-themed idea, such as a trip to a sports museum or a trip to his favorite golf course.