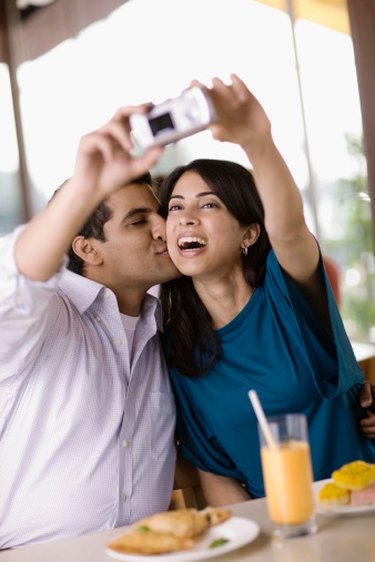 The three-month mark into a relationship is special as it signifies the infatuation stage of the relationship. The relationship begins to move into the stage when a couple really starts to get to know one another. With the help of a nice three-month anniversary gift, the special moment in time can be celebrated.
Artistic Photos
Taking photographs together is a special way to commemorate a relationship. A wonderful gift to give to your guy that he will truly appreciate is a personalized piece of artwork. There are many websites available, such the PhotoARTomation website, which allow you to upload your favorite photos and personalize them to create a beautiful piece of artwork your guy will love.
Homemade Meal
If you're savvy in the kitchen, a great three-month anniversary gift idea is to cook your boyfriend a romantic dinner for two. Search the Internet or through your favorite cookbooks to find a delicious meal the both of you enjoy. A great simple and romantic dinner idea is broiled honey-glazed salmon with a side salad and chocolate-covered strawberries for dessert. If you know your boyfriend's favorite food, incorporate that into your romantic dinner.
Weekend Getaway
If you have the spare cash to splurge, take a weekend trip to the mountains or to a local beach (weather permitting). Surprise your guy by planning the trip ahead of time, but keep it a secret up until the day of the trip. Be sure to plan all details, such as hotel check-ins, dining locations and some fun activities to do at your destination. Find a local bed & breakfast for added romance.
Activity
Find an interest you both love, such as cooking, a sporting event or ice skating, and do it together. Spending time together can be a real gift for a relationship and can bring you closer together. Plan a special day of fun activities and include a nice dinner at home or out on the town if your budget permits. You can end your fun-filled day by watching a romantic-comedy at home cuddling on the couch or dance the night away at a popular club in town.