Although you may never make your way to Italy and indulge in famed regional dishes like pizza Margherita or hand-made pasta topped with pesto sauce, a bit of careful planning can bring Italy to your home when you host an Italian-themed dinner party. While it is certainly important to make authentic dishes and create an Italian-inspired decor, Italians also believe in savoring their food during a leisurely dining experience. Take plenty of time between each course.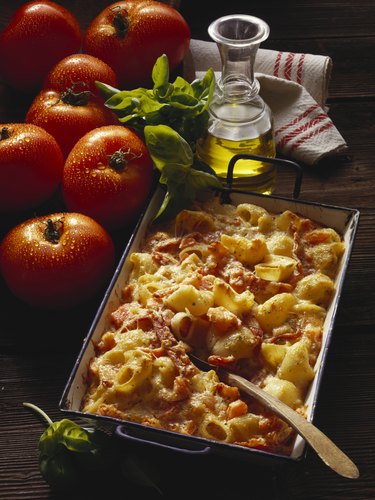 Step 1
Make homemade invitations for your Italian-themed party. Head to an arts and crafts store and buy some red, white and green stationery -- the same colors as those found in the Italian flag. Use similar colors to write or print the invitations. Decorate them with Italian-themed stickers, such as Italian flags, the Leaning Tower of Pisa and Roman Colosseum, often found in the scrapbook section of arts and crafts stores.
Step 2
Set the mood at your party by playing music by such famous Italian and Italian-American artists as Luciano Pavarotti, Frank Sinatra and Dean Martin. Keep the volume low so people can talk.
Step 3
Decide between a sit-down or buffet dinner. Cover the buffet or dining room table with red and white checkered tablecloths similar to an old-fashioned Italian restaurant. Create mood lighting with red candles. Place framed photos on the tables of famed Italian landmarks, like the Trevi Fountain, Amalfi Coast and Venice's Grand Canal.
Step 4
Start the meal with an Italian appetizer. Top a large slice of tomato with mozzarella cheese and fresh basil, before drizzling with balsamic vinegar. For lighter summer fare, scoop out melon balls, wrapping the fruit in prosciutto and piercing the combination with toothpicks.
Step 5
Follow up the appetizer with a salad featuring lettuce, cheese, ham and salami, or an antipasto salad with mushrooms, olives, artichokes, cherry tomatoes, pepperoncino and roasted red peppers, all mixed with red wine vinegar. Serve with a loaf of garlic bread. Consider serving a bowl of minestrone soup during cold weather.
Step 6
Offer a hearty main dish like chicken Parmesan, or breaded meat, topped with cheese and marinara sauce, or spaghetti Bolognese, a meat sauce featuring a mixture of ground beef and pork. Provide some vegetarian options, as well such as eggplant Parmesan or angel hair pasta with olive oil and fresh steamed vegetables.
Step 7
Purchase sweet Italian treats for dessert like tiramisu, gelato or biscotti dipped in chocolate, commonly found at bakeries and high-end grocery stores.
Step 8
Provide a wide array of wines from Italy, including labels from the famed wine region of Tuscany. Include nonalcoholic options like bottled Italian sodas often found at specialty gourmet stores.
Tip
Look for photos of Italy in travel guide books, brochures and magazines.
Add authenticity to your event by shopping at Italian markets or delis in your region.
Warning
While candles add elegance to your dinner party, make certain you never leave them unattended.
Ask your guests ahead of time about any possible allergies. For example, the nuts used in biscotti may cause a serious allergic reaction.