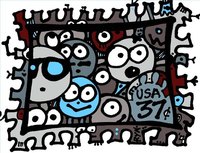 Photos make a great gift that keeps on giving happy memories to the recipient. It could be a challenge, however, trying to figure out who to wrap pictures. Depending on how you are presenting the photos, you have several options, all of which are sure to be as pleasing as the photos inside.
Things You'll Need
Wrapping paper
Scissors
Scotch tape
Packing material
Decorative box
Bow, ribbon or other adornment
Figure out how you are presenting the pictures. Gifting someone with photos could mean you are giving them a single photo or collage neatly arranged in a frame, a series of photos laid out in a photo album or a collection of loose photos. If you are picking pictures from an event or trip, you can even do all three. Put the most striking photo in a decorative frame, add a small collection to an album, and present all the outtakes as loose photos.
Pad and wrap a picture in a larger frame or album. Get a thin sheet of foam packing material that is double the size of the frame or album. Add a doubled or tripled sheet of the foam on top of the frame's glass. Lay the frame or album face up on the foam, folding the sides and then the top and bottom together. Secure with tape. Flip over the frame or album and lay face down on a sheet of wrapping paper that is double the size of the frame or album. Fold the sides together and tape. Make creases at a 45-degree angle, angled towards the center, on the side tabs on the top and bottom. Fold the top and bottom towards the center of the back of the package. Secure with tape.
Present loose photos in box. Get a decorative gift box or paint or wrap a shoe box or other box with a lid. Cover with wrapping paper by cutting two pieces that will snugly fit around each the top and the bottom of the box independently. Line the box with a thin layer of tissue paper. Put photos inside.
Use gift bags for smaller frames and albums. Gift bags are an easy way to present a smaller framed photo or album.
Finish off the package. Add a decorative bow, ribbon or small toy to the top of the gift for added pizzazz.