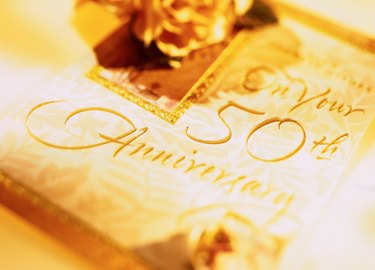 If your parents are celebrating their 50th wedding anniversary, congratulations are in order. Fewer than six percent of couples reach that milestone, according to the U.S. Census Bureau. Called the golden anniversary, the occasion is often marked with gifts of gold -- an engraved plate or a picture frame, for example. Or, plan ahead to create a gift for your parents that honors why they stayed married for so long.
Book of Letters
A month or two before your parents' big day, contact your parents' friends -- the longer they've known your parents, the better -- and ask each person to write a note or letter sharing some special memories they have of your parents. To encourage people to write the letters, include a couple of sheets of nice stationery and a self-addressed stamped envelope with your request. Ask everyone to write on one side of the paper only. Also ask your relatives, and don't forget to write your own letter! Collect all the letters in an album or mount them in a blank journal.
Memory Lane
Put together a scrapbook celebrating your parents' 50 years together. Don't just include photos, however. Spend some time doing research, and add items -- reprints of magazine photos, newspaper headlines, quotes -- commemorating significant national events during your parents' marriage. If you can find an old wedding invitation, open the scrapbook with that. And for an unusual end page, contact the White House to obtain a special congratulatory letter from the president.
Second Honeymoon
If you can afford to do so, consider sending your parents on a second honeymoon or to someplace they've never visited but always meant to explore. A trip makes a great group gift from siblings. If the trip is outside the United States, make sure your parents' passports are up to date. Otherwise, allow a couple of months between the giving of the trip and the actual departure date so your parents can take care of the matter themselves. A number of travel agencies specialize in trips for seniors, making it easy for your parents to enjoy their journey without tiring themselves out. The U.S. State Department also has a brochure with tips for seniors traveling abroad.
Charitable Donation
If your parents are adamant about not wanting any presents other than your presence to celebrate their anniversary, honor their request and instead donate to a charity in their name. Choose a charity that has meaning for your parents or otherwise reflects their interests. For example, make a donation to the church or synagogue in which they were married, or to the appropriate support group if one of your parents has survived a life-threatening illness. To commemorate your parents' 50 years of marriage, make your donation in the amount of $50 or multiples thereof. If you would rather give something more concrete than money, donate a book, name a bench or plant a tree -- the possibilities are limited only by your imagination.