Things You'll Need
16-17 candles

Matches or lighter

Cake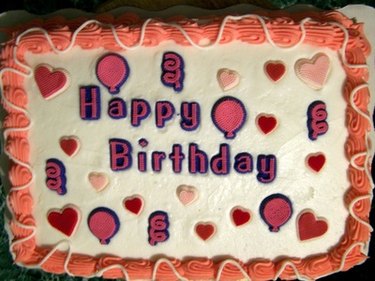 A candle-lighting ceremony for a girl's Sweet 16th Birthday is a coming-of-age tradition. The ceremony spotlights the teen and gives her an opportunity to show appreciation and attention for those who are important to her. This is an old tradition that brings friends and family together. It is typically done prior to serving the birthday cake.
Step 1
Purchase or bake birthday cake. Ensure it is large enough to comfortably hold at least 16 burning candles.
Step 2
Place 16-17 candles on the cake. The candles represent 16 people or groups of people who are important to the girl celebrating her 16th birthday. A 17th candle is optional and represents good luck.
Step 3
The Sweet 16 Birthday girl will light each of the candles on the cake. Another option is to have the person or people being honored in the ceremony light their candle.
Step 4
Light the candles in the following order: The first one is for the parents. The second is for siblings or, if no siblings, grandparents. The third through sixth candles are for remaining family members. The seventh through 14th candles are for chosen friends. The 15th is for a best friend or friends. The 16th is for a guy. This may be a boyfriend or a best guy friend. The 17th, if used, is an inspirational candle.
Step 5
As each candle is lit, the birthday girl presents a short speech, joke or poem about the person or group of people that the particular candle signifies. This should be kept short to ensure that each of the candles will remain lit throughout the ceremony. Another option is to write a short letter to the honoree, which is handed out when the appropriate candle is lit. The letter may or may not be read aloud.
Step 6
Sing "Happy Birthday" or another celebratory song before serving the cake.
Tip
Other Sweet 16 Birthday events that complement the candle-lighting ceremony include a father-daughter dance. Think through the party plan and put the events in the most reasonable order. Most times, the father-daughter dance is done after the candle-lighting but before the cake is served to guests.