Things You'll Need
4-inch-wide satin ribbon, 2 yards

3-inch precut stick-on letters

Yardstick

Glitter paint

Rosette

Masking tape

Pin back

Scissors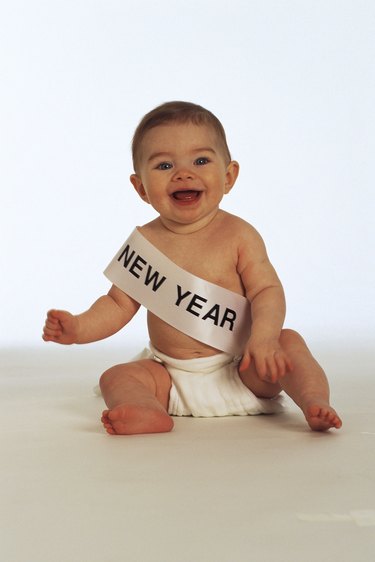 Drape the shower honoree with a "pageant-style" sash. Create a wide dramatic sash with glitter for sparkle and shine. Use precut stick-on letters for perfect penmanship every time. Match the color of the sash and the lettering to the party decorations or use white for a bride or pink and blue for an expectant mother. If twins are expected, make two sashes and hang them over different shoulders, so that they cross in front. It will create an overwhelming look that is perfect for the mother of twins.
Step 1
Fold a 2-yard length of 4-inch-wide satin ribbon in half lengthwise with the right side of the ribbon on the outside. Wide ribbon is available at floral supply stores. Lay it on a flat surface with the fold on the left. Lay a yardstick on the folded ribbon so that the top edge of the yardstick is 1/2 inch above the bottom edge of the ribbon. This provides a guide so that you can apply the letters in a straight line.
Step 2
Write out the title for the sash and count the letters and spaces to find the middle letter or space. Place the middle letter 16 inches to the right of the fold in the ribbon, so that the bottom edge is next to the top of the yardstick.
Step 3
Apply the rest of the letters in a straight line.
Step 4
Outline the edges of the letter and the edges of the sash with glitter paint. Allow the paint to dry for two hours.
Step 5
Tape a pin back to a premade rosette with masking tape.
Step 6
Drape the sash over the wearer's right shoulder and use the rosette to pin the ends together over her left hip. Trim the ends of the ribbon at an angle, 4 inches below the pin.
Tip
For a shower that takes place after the baby is born, create a small sash for the baby.