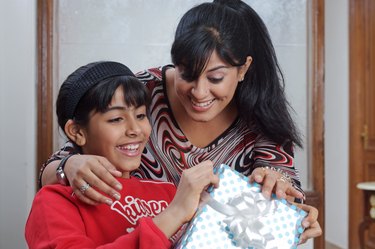 A girl's 13th birthday is an important milestone, as it represents the doorway into the coveted teen years. Help your daughter celebrate her big day with an assortment of almost-grown-up gifts that acknowledge her budding maturity, while still appealing to her sense of youthful enthusiasm.
Gift Ideas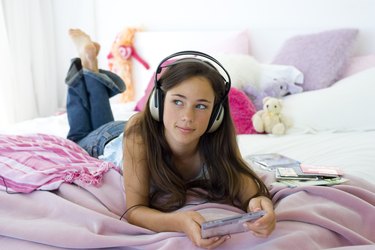 Gifts that embrace your daughter's new-found freedoms and privileges will be eagerly received as she celebrates the important rite of passage into her teens. Consider a few of these fabulous gift ideas for your not-so-little girl:
Put together a custom make-up starter set with the products and colors she'll love, but ones that you also feel comfortable letting her wear. Consider adding several shades of lip gloss, pastel eye shadows, a light colored blush and bronzing powder.
Give her a manicure/pedicure set in a pretty basket or colorful zippered bag. Include several fun colors, a French manicure set, multiple toe separators (so that she can have a pedicure party with a friend), nail decals, nail polish remover and cotton balls.
If she does not yet have her ears pierced, consider a trip to the mall jewelry store for ear piercing and a few pairs of earrings.
Give her a gift certificate for her favorite mall department store.
Compile a pretty organizer full of beads and findings for jewelery making so that she and her friends can customize their own necklaces, bracelets and earrings.
Look for an iPod or mp3 player in her favorite color, along with an iTunes gift card.
Create a spa kit with scented lotions, foot creams, body scrubs, mud masks, and fragrance spray.
Give her a beautiful journal to record her thoughts.
Put together a hair-care set with teen-friendly shampoo and conditioner, gel, hot oil treatment, pomade, hair spray, curling iron, hair dryer, round brush and a selection of pretty barrettes and headbands.
Treat her to a trip to the salon for highlights or a manicure.
Buy her a monogrammed purse and wallet set.
Give her a digital camera with a trendy carrying case.
Find a birthstone necklace in a style you know she'll love.
Give her a jewelry tree or jewelry box.
Appeal to her varied interests with a silver charm bracelet and several carefully chosen charms that remind you of her.
Get her a beautiful stationary set.
Buy her a selection of her favorite CD's or DVD's.
Redecorate her bedroom with new bedding, a trendy lamp, a colorful rug and fabulous accessories.
Book an hour-long photo shoot with a local photographer and give your daughter the chance to feel like a fashion model.
Order her a subscription to several fun teen-focused magazines