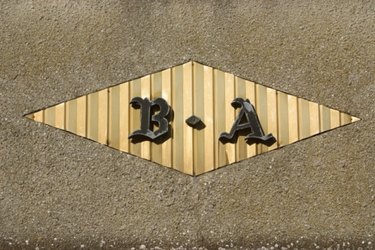 Three years together is a big milestone as a couple that you want to celebrate together. If you are having difficulty choosing the best anniversary gift for your boyfriend, get creative with personalized and sentimental gifts. The gift doesn't have to cost a lot, rather use your imagination and get him a gift that comes from the heart.
Leather Gifts
The traditional three-year anniversary gift is leather, and while these traditional gifts are intended for marriage, they can also be incorporated into a dating anniversary. Leather gift ideas for your boyfriend include a wallet, briefcase, laptop case, belt, jacket, photo album, flax or passport holders. Many leather gifts also have the ability to be personalized with his initials, his name or your dating anniversary date.
Engraved Picture Frame
An engraved picture frame is a thoughtful gift to give your boyfriend for your third anniversary. Either choose a photo of the two of you that is one of your favorites, or get new photos of you taken at a photo studio. Choose the best pose and frame it. Engraved picture frames are available at specialty shops that allow you to choose the message, names or dates to be engraved on the frame.
Romantic Night In
Treat your boyfriend to a romantic night in for your third anniversary. Invite him over to a home-cooked meal of his favorite food with a dessert you made from scratch. Set the mood with scented candles and soft music for your romantic meal, then select a movie you can enjoy watching together once dinner is over.
Picnic Basket
Put together a picnic basket for your anniversary, that the two of you can use for weekend outings. Fill the picnic basket with plates, cups, flatware, napkins, food storage containers, a bottle of wine and a selection of baked goods and treats. If it is big enough, also include a blanket and small radio for your future picnic together.
Scrapbook
Make your boyfriend a scrapbook that includes a timeline of your relationship. Choose photos from the beginning of your relationship when you were just friends, then when you started dating, and also more current photos. Include photos of the two of you as well as friends, family and pets that have been there during your relationship. Scrapbook supplies are sold at craft stores, discount and dollar stores, as well as scrapbook stores.