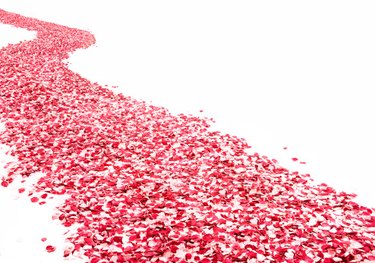 You are never too old have some fun with romance, and Valentine's Day gives seniors the perfect opportunity to get dressed up, flirt and make some new connections. If you are running a Valentine's Day party for seniors, choose activities that will help the guests connect with each other and that give them plenty to talk about. A Valentine's Day party is an ideal chance for the seniors in your life to reminisce about some old memories and make some new ones.
Valentine's Day Dance
Figure out when the majority of the seniors at the party were in their teens or twenties and set up a dance floor. Ideally, dress the servers and the DJ up in clothing from the era. Look up the popular songs from the era, interspersing fast dance numbers with plenty of slow, romantic songs. Encourage the volunteers and the staff for the party to ask the participants to dance. A dance is a simple activity that only requires an open dance floor, and it gives the seniors a great reason to dress up.
Cookie Making
If the seniors' Valentine's Day party is to be small, consider having a cookie making event. Spread out tables so that everyone has enough space to work, and provide the seniors with cookie dough, cookie cutters, colored sugar, frosting and sprinkles. Everyone can make cookies while being social, and then the cookies can be packaged up in cellophane and distributed as gifts to the recipients of the seniors' choice.
Card Making
Put together construction paper, scissors, glue, bits of lace and scrapbooking materials and allow the seniors to make Valentine's Day cards. The first part of the party can be spent making the cards, and the second part can be spent distributing them over dinner. A card-making party allows the guests to express their creativity and to enjoy a day spent chatting and making things.
Karaoke and Speeches
Set up a small stage area with a spotlight and a microphone and encourage seniors to get up on stage to share their romantic feelings. Bring in a karaoke machine and ask them to sing their favorite songs, or ask them for their favorite Valentine's Day memories. Ask them to relate their sweetest Valentine's Day, or their funniest romance-related mishap. Valentine's Day is all about sharing, so let them share their stories with an attentive audience.