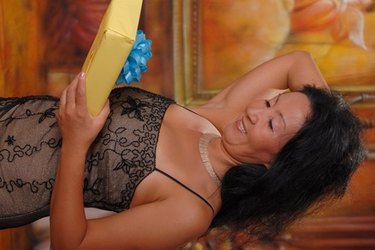 A woman who is turning 50 may have conflicting emotions about this birthday. On the one hand, a 50th birthday is an inescapable sign of middle age. On the other, by the time a woman is 50 she is phasing out of the time when she mainly takes care of other people (children, husband, boss) and moving into the time when she can please herself. Give your wife a gift that celebrates how far she's come.
Hobby Gift
If she has a hobby she loves, chances are that by the time she's 50 she's pretty good at it. Salute her achievement by buying her the very best, top-of-the-line equipment she needs to pursue her passion. If she's a gardener, buy her a full set of ergonomic garden tools with a lifetime guarantee or a gazebo to place in the center of her garden. Give a gourmet cook a set of professional-quality kitchen knives.
New Passion
Your wife has spent many years making sure that things go well for other people, so help her begin the second half-century of her life by introducing her to something solely for her. Sign up the woman who loved to teach children crafts for a glass-blowing class. Buy a jogger a year-long pass to a full service gym so she can swim or take a spin class when the weather is bad.
Big-Ticket Items
A 50th birthday is a huge milestone that calls for a once-in-a-lifetime gift. Give the ex-carpooling mom a two-seater sports car. If your wife has spent years on the road for business, take her to Paris for pleasure – first class. A woman who spent her 40s refurbishing last year's clothes to save money for your business start-up might appreciate an all-new wardrobe of designer clothes. Replace the diamond-chip engagement ring she accepted when you married young with a 2-carat stunner.
Sentimental Gifts
Throw your wife a birthday party and invite as many friends and family members as you can think of. Decorate with pictures from her infancy and childhood, serve her favorite food and drink and play children's party games. Ask each guest to bring a letter to the party describing a favorite memory of your wife. Use a digital camera to take lots of pictures. After the party, make a scrapbook of the letters and the photos and present it to your wife for a unique gift that she will treasure for the rest of her life.