There's a lot that a baby shower host has to be aware of: the location of the party, a comprehensive invitation list, lively decorations, entertaining games, memorable gifts and enough grub for all. Phew! Let these menu ideas give your hosting duties a much-needed assist in the food department. When you serve eats that can prepped quickly and served to a crowd — like antipasti skewers and a tomato tart — then you can make sure that everyone is satisfied without blowing your budget. Save the "wow!" moments for can't-miss desserts, and the mommy-to-be and her celebratory crew will be more than impressed.
Curried Deviled Eggs
When you have a guest list that includes everyone from the grandma-to-be to the godparent-in-waiting, you need a dish that will please the whole gang. Curried deviled eggs are a spicy take on a classic party platter. Not only will guests identify this in a split-second, but they'll also be able to appreciate the recipe's enticing change of pace.
Italian Antipasti Skewers
Pasta salad is great, but a big bowl of the stuff can come across as ho-hum. Take it up a notch by making Italian antipasti skewers instead. Thread pasta, salami, cheese and veggies on bamboo skewers for an easy grab-and-go appetizer.
Fresh and Easy Pork Dumplings
Do you want to see nothing but empty plates and happy party-goers? Then serve pork dumplings. All you'll need is ground pork, scallions and wonton wrappers – you likely have the rest of the ingredients at home.
Homemade Zucchini and Kale Frittata
When zucchini is in season, you can always find room for it in your budget. Make a homemade zucchini and kale frittata for your guests before the shindig begins, and you'll have a healthy, light option for a baby shower brunch.
Apple Jicama Salad Rolls with Peanut Dipping Sauce
Not sure what to whip together for an early afternoon soiree? This recipe for apple jicama salad rolls with a peanut dipping sauce is ideal: guests can have one or two as an appetizer, or you can serve a bunch for lunch.
Fresh Mint and Beet Salad with Meyer Lemon Dressing
When you need a healthy option for your mom-to-be's loved ones, a salad is a quick and easy option. Put this fresh mint and beet salad on your buffet table, and the tasty ingredients won't hurt your bottom line.
Charred Corn with Chicken and Cheese Salad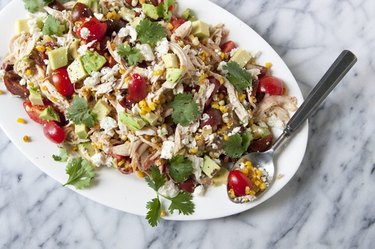 Watermelon Boat
Want to really impress the mommy-to-be? Carve a watermelon boat, fill it with fresh fruits and make it the centerpiece of the buffet. Not only does it look gorgeous (and pair well with any other items you plan to serve) but it will also make you look good.
Spicy Thai Chili-Infused Coconut Water
When you need a pitcher of something that's alcohol-free, do more than just throw cucumbers in water. Instead, make a batch of spicy Thai chili-infused coconut water for a special, refreshing treat that no one will see coming.
Five-Ingredient Spicy Tomato Tart
Give a sweet tart a savory twist with this five-ingredient spicy tomato tart. Gather a pre-made pie crust together with the fresh ingredients, and you have a winning appetizer that is bound to be gone in a flash. Bonus: you can make this one in advance.
Black Forest Cake
Cupcakes are so 2015. Upgrade the typical baby shower dessert by making a show-stopping black forest cake with enough volume to turn heads. Everyone will be asking for seconds — and the recipe.
Build-Your-Own Tostada Bar
What's easier than a food option your guests can make themselves? Do a build-your-own tostada bar for your main course so that every guest can tailor her plate to her palate. Furthermore, this plan of action will give you a few extra minutes of free time to devote to another aspect of the party.
Nutella Crepe Cake
You can make sure everyone feels like a winner, even if just a few guests won prizes during the party's games. Make your own Nutella crepe cake and serve it as the event comes to a close, ensuring that everything ends on a sweet note.