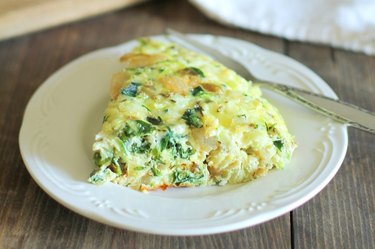 Frittatas are traditionally made with fresh vegetables, eggs, cheese and various meats such as sausage or bacon. Vegetable-packed frittatas are quick and easy to prepare and are great for sharing with company for breakfast or brunch. This simple yet delicious frittata recipe includes onion, kale and zucchini for a light and healthy meal. You can use your favorite cheese in the recipe or leave the cheese out for a dairy-free option.
Things You'll Need
3 tablespoons olive oil

1/2 yellow onion, diced

4 cups loosely packed baby kale leaves (alternately, use finely chopped kale leaves)


1 large zucchini, grated

8 eggs, lightly beaten

1 cup Monterey Jack cheese

1 teaspoon Italian seasoning

1/2 teaspoon fine sea salt
Tip
You may also use cheddar cheese, gruyere, pepper jack or another cheese of choice.
Heat the oven to 400 degrees F. Heat the olive oil in 10-inch cast iron (or oven safe) skillet over medium heat, and chop 1/2 of a large yellow onion.
Add the chopped onion to the hot skillet and saute, stirring occasionally, until browned -- about 8 to 12 minutes.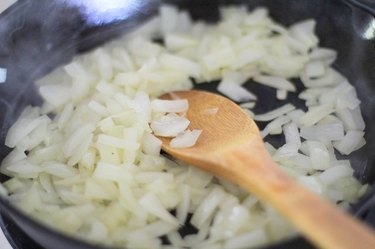 While the onion is sauteing, prepare the egg mixture. Begin by chopping the tip and tail off of the zucchini and grating it using a box grater. Also grate the cheese using the box grater.
Whisk the eggs in a mixing bowl, and add the grated zucchini, cheese, Italian seasoning and salt. Whisk or stir the mixture until well combined. Set aside until ready to use.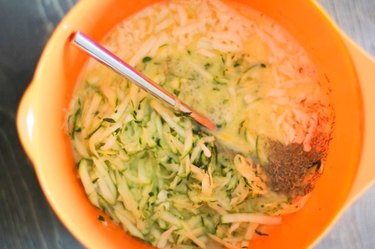 When the onion is browned, add the baby kale (or chopped kale leaves) to the skillet. Cook, stirring occasionally, until the kale leaves have wilted -- about 3 minutes.
Pour the zucchini and egg mixture into the skillet with the onion and kale. Use a wooden spoon to evenly distribute the eggs and vegetables.
Tip
To avoid large bubbles or an overflow in your frittata, be sure to stir the eggs and vegetables together so that everything cooks evenly.
Place a baking sheet on the oven rack underneath the skillet just in case the egg rises and overflows.
Place the skillet on the center rack of the preheated oven. Bake for 20 to 25 minutes, or until the eggs have set up and are cooked through. Remove the skillet from the oven, and allow the frittata to cool 10 minutes before cutting into large triangles and serving.
Tip
Instead of zucchini and kale, you can use summer squash, spinach and various vegetables and herbs. You can also add other seasonings, such as ground cumin, curry powder or paprika.