Listening parties are loosely directed gatherings aimed at discovering new music. The music is typically played very loud. Conversations are difficult to carry on during one of these parties because of the volume. But it is more than just loud music. People are encouraged to bring a mix of songs to share with the others. Encourage unusual choices, such as songs that are interesting and unexpected, alternative, local or otherwise different than what is played on the radio. Listening parties could also be a special event held to listen to a new release with like-minded friends or would-be fans of the artist.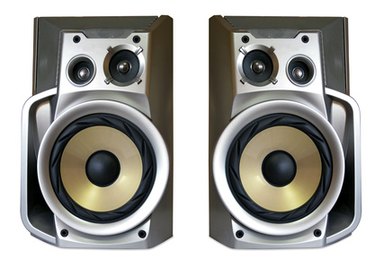 Things You'll Need
Drinks

Comfortable Seating

Snacks

Music

Stereo
Step 1
Find a suitable location. Small gatherings can be held at home but if you live in an apartment with thin walls and plan on inviting a lot of people you may want to find an alternate venue. Look for a place with plenty of seating and the ability to play loud music without interuption.
Step 2
Invite guests to bring a CD with music they want to share burned onto it or a playlist on their mp3 player. Encourage unusual finds and have them clearly label their CD or mp3 for safe return at the end of the night.
Step 3
Play four sets of music throughout the night. Keep it random, letting each person play at least one song in each round. Do not announce the songs, just let the music play while everyone listens.
Step 4
Serve food and drinks after each round and then again after the final selections. You can have everyone bring a dish to share in order to keep the costs down. Guests can discuss the songs they liked and didn't like. This is when guests can share titles and artists of songs that have been played.
Tip
Gather people to listen to a particular artist is another way to hold a listening party. This can even be held by the artist himself to share his music and sell CDs.
Open the event to the public to increase the exposure of an artist.