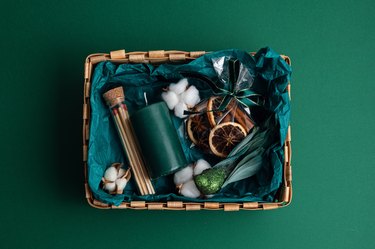 The holiday season traditionally includes gifts and good deeds. Ideas for a Christmas basket range from providing a complete dinner ready to heat, to individual food items, to toys, clothing or gift cards for local restaurants and stores. Whether working with a charitable organization or helping family or friends, research their needs to ensure that the basket is an appropriate gift for a needy family.
Considerations When Preparing a Basket
Before you begin gathering the elements of the gift basket, consider whether the family has children or elders in the household, pets, access to a kitchen, dietary preferences, allergies and, of course, personal belief systems. While it may be Christmas for you, the family might celebrate Hanukkah, Kwanzaa, Three Kings Day, the winter solstice or some other winter holiday – or no holiday at all.
A homeless family may not have access to a kitchen, oven or refrigeration, so providing foods that must be kept cold for safety or roasted for hours in the kitchen may not be practical. If possible, ask the family or, if working through social services or charitable organization, ask the worker what their needs are for the holidays.
Christmas Food Basket Ideas
A traditional Christmas food basket contains the essentials: a turkey or ham, potatoes or mashed potato mix, stuffing mix, boxed macaroni and cheese, dinner rolls and canned items like cranberry sauce, sweet potatoes or yams, green beans and corn. Add milk, butter, eggs, condiments, disposable pans, aluminum foil and other necessities to fix the dinner. A frozen pie or a cake mix completes the meal.
If preparing a basket for a family that follows vegetarian, vegan, gluten-free or other dietary restrictions or laws, check every label. Vegetarians may or may not include fish and dairy products in their eating plan, so ask before including eggs, butter or milk. Vegans don't eat any animal products, including honey. If the family follows kosher or halal dietary laws, research and include only items marked as kosher or halal – in general, fruits and vegetables are safe for most dietary restrictions, barring allergies, while pork is a hard no for vegetarian, vegan, Jewish and Muslim families.
Homeless or Limited Kitchen Access
A homeless family may not have access to a kitchen or may only have a microwave or toaster oven. A basket or small cooler filled with heat-and-serve foods, such as a precooked ham, sliced turkey breast or a turkey roll filled with stuffing, potatoes, sweet potatoes, macaroni and cheese and other foods can be a feast. Include butter, pre-boiled eggs, milk or shelf-stable milk, bread and dinner rolls, a manual can opener and all the disposable pans, plates and flatware needed to heat and enjoy the meal. For dessert, add a thaw-and-serve pie, cake or cheesecake.
Granola bars, beef jerky, peanut butter crackers, bottled water, flavor packets and other prepackaged food items are often a treat for a struggling family. Also, consider pooling resources and providing a voucher for a hotel room, which could be a lifesaver when the weather is frightful.
Kid-Friendly Holiday Basket
A kid-friendly holiday basket might contain practical as well as fun gifts. Socks, shoes, hats, jackets and warm clothing are essentials. So are new toothbrushes, toothpaste and hairbrushes. Teens might appreciate makeup, deodorant and personal care items.
In addition, you can wrap age-appropriate toys, puzzles, games and videos. Add a soccer ball, basketball or other sports gear. Include books and, if your budget allows, electronics such as Chromebooks or tablets for school-aged children or teens.
In addition to food basket ideas, consider non-food options. Gift cards for local restaurants, coffee shops and/or grocery stores allow the recipient to choose what the family needs. Check for other needs, such as furniture, bedding, towels, appliances or other household items that you might take for granted.
As an alternative to material gifts, lonely elders or shut-ins might enjoy a weekly visit to play cards, talk or enjoy a meal together. An invitation to Friday night or Sunday dinner with pre-arranged transportation is another way to include a single person, couple or family year-round.