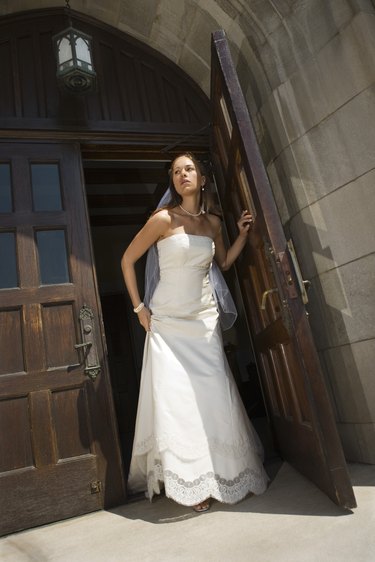 Whether you inherited an heirloom gown or exchanged your flats for heels, discovering that your wedding dress is too short is always disheartening. However, there are several techniques you can employ in order to give your gown the extra length it needs. If you are not a confident or experienced seamstress, take the gown to a professional tailor. She can discuss your options and help you determine the best choice for your gown style.
Remove the Hem
If your gown is made of a thick, opaque fabric such as duchess satin or taffeta, it may have a wide hem sewn in with an invisible stitch. Thin fabrics, such as lace and organza, however, usually only have a rolled hem, which will not give you any additional length. If your dress does have a wide hem, use a seam ripper to carefully pluck out the stitches. This method perpetrates less damage to delicate wedding dress fabrics than scissors do. When the entire hem is undone, turn up the unfinished edge and hand sew it in place. Press the hem with a cool iron to keep the edge crisp.
Add a Ruffle
For dresses with sheer or lacy outer layers, adding a ruffle of soft organza, tulle or lace to the hem can be the best option. Cut a long, thin panel of fabric and ease stitch across one of the long sides. Ease stitching is accomplished by sewing the fabric with the widest stitch on your sewing machine and not knotting the beginning or ending stitches. Afterwards, pull the top threads taut to gather the fabric. You can then sew the ruffle to the gown's hemline for a flirty lengthening technique.
Lengthening Panels
Purchase a yard of fabric similar to the thickest fabric used in your wedding gown's construction. Usually, this is duchess satin or taffeta. Create a panel of fabric measuring the same width as the front of your gown's skirt from side seam to side seam and twice the extra length required. Fold the panel in half widthwise, keeping wrong sides together. Press the resulting fold, which will act as the gown's new hemline. With right sides together, sew the panel of fabric to the gown's lining layer. This will allow the panel to peek out from underneath the outer layer, adding both length and style.
Wear an Underskirt
If you don't want to sew any extra fabric to your wedding gown, consider pairing it with a second layer. Donning a long petticoat will provide your dress with the additional length you require while keeping the gown's fabric intact. Additionally, you can select an underskirt in a contrasting hue to bring a bit of color contrast to your ensemble. The underskirt is also easily removed after the ceremony, making it easier for you to move about at your reception.