Things You'll Need
Tape measure

Assistant (if taking your own measurements)

Dress pattern

Newspaper

Pencil

Fabric

Shears

Sewing machine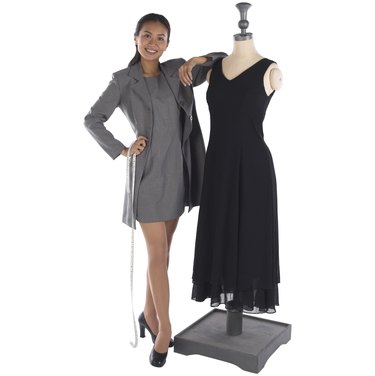 A "fitted dress" hugs the curves of the body from top to bottom. It may also refer to a dress that has a fitted top portion. Whether you are planning to make ball gown, party dress, pleated dress or tiered dress, you can sew your own fitted dress to save money and get the exact design, color, and fit that you want. Readymade fitted dresses can come with a hefty price tag, so creating your own fitted dress can also save you money. Although you need basic knowledge on sewing, you do not need to be a sewing expert to make a dress.
Step 1
Measure around the fullest part of the bust to get the bust line. Measure from underarm to underarm to get the chest line. Measure from shoulder bone to shoulder bone to get the shoulder line. Measure around the neck to get the neck line. Measure around the fullest part of the hips to get the hip line. Place the tape measure around the waist for the waist line. If the dress has sleeves, measure around the biceps to get the bicep circumference. If the dress has long sleeves, measure around the elbow and the wrist to get the elbow and wrist circumference. To determine the length of the dress, measure from the chest line down to the part of the legs where the bottom of the dress will be. If you are taking your own body measurements, ask for the help of a friend.
Step 2
Choose a dress pattern that fits your body measurements. Dress patterns come in various sizes.
Step 3
Trace the pattern on the fabric and cut the fabric according to the pattern. Provide a half-inch seam allowance on all edges of the pattern pieces.
Step 4
Follow the sewing instructions that come with the dress pattern. If you are sewing a tube dress, for instance, it will consist of two pieces: the front and back panels. Sew the two pieces on the side edges with the back sides of the fabric together, and then hem the top and bottom edges.