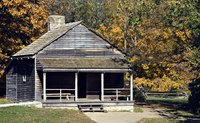 Pioneer Halloween costumes are favorites for little girls who love "Little House on the Prairie." Even if you don't know how to sew, you can come up with a good pioneer costume using items you can find at thrift stores. If you do know how to sew, you can make everything from bonnets to bloomers. This is a perfect costume for Northern climates, where trick-or-treaters have to deal with cold weather. You can bundle up beneath the big dress and stay warm.
Things You'll Need
Dress with long sleeves
Bloomers
Apron
Afghan
Bonnet
Lace-up boots
Cotton collared shirt
Khaki pants
Suspenders
Cowboy hat
Cowboy boots
Hobby horse
Girl's Costume
Find or make a good base dress that's long with long sleeves. Calico cotton with a small floral pattern is a great fabric for a pioneer dress.
Find or make some bloomers. If you don't sew, cut some scrubs to mid-calf length. Put a pair of white tights under these and you'll not only look authentic but also stay warm on a cold night.
Add a pinafore-style apron or a waist-style apron. You also can merely pin a white dish towel to the dress.
Add a crocheted tablecloth or afghan as a shawl.
Find some lace-up boots or Mary Jane shoes.
Boy's Costume
Find a cotton collared shirt and a pair of khaki pants.
Add a pair of suspenders.
Find a straw or leather cowboy hat.
Get a pair of cowboy boots, a pair of loafers or dress shoes.
Look for accessories, such as a hobby horse, a garden tool or wooden tool box.