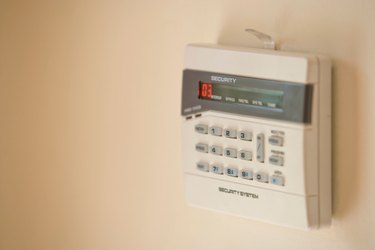 A home alarm system is not an infallible device. While the system can be useful for providing your family with warning that danger is afoot, the system can also pick up a false alarm and start beeping for no apparent reason. If you no longer want your system to function, you must power it down completely. Most home alarm systems use electricity supplied to the home and a backup battery.
Step 1
Locate the main security panel box. This is usually a metal box located in a secure area, such as a basement crawl space or closet.
Step 2
Open the main security panel box. Find the security system transformer (which resembles an AC adapter and the backup battery). The backup battery is usually a 12-volt battery; it is a black box with red and black wires leading into it.
Step 3
Unplug the transformer. Remove the leads from the backup battery.
Tip
Contact your alarm service provider before disconnecting power to your alarm and tell them what you are doing. Some alarms may send a signal to the monitoring station informing the company that your system has lost power and the company may try to contact you, thinking it could be trouble.
Warning
Powering down your alarm system completely disables it. You still need to cancel your service with the alarm company if you no longer want your system monitored. Your alarm system is an electrical device; wear proper safety equipment and take proper safety measures as necessary.