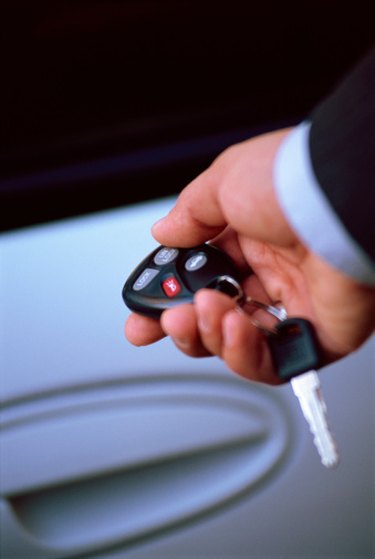 Viper car alarms systems, manufactured by Directed Electronics (DEI), have grown in popularity with many vehicle owners and car manufacturers in the United States. The Viper 474V is a four-button remote that enables you to control the alarm system remotely, while allowing you to access keyless entry and remote start (if installed with your system) without having to go to the vehicle. Programming the Viper 474V follows the same procedure as programming any other DEI remote.
Step 1
Open your driver's side door and get into the vehicle. Leave the door open. Put your key into the ignition and turn it to the "On" position.
Step 2
Push the "Valet" button on the remote one time to program your alarm, two times to program the trunk release and door locks, and three times to program the remote starter.
Step 3
Listen for one, two or three chirps from the system, according to which function you are programming from the previous step.
Step 4
Push and hold the "Valet" button and then push the button for the feature you want to program.
Step 5
Listen for one, two, or three chirps to confirm programming. Press the "Valet" button to exit programming mode. Turn your ignition key to the "Off" position.