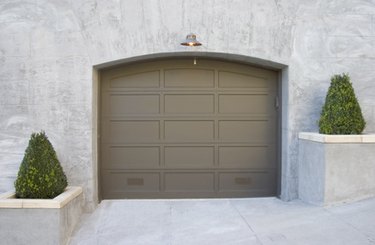 Though not as common as the Craftsman, LiftMaster and Genie garage door openers, Legacy is a system commonly used in garages around the United States. Legacy garage doors allow you to program your motor to a variety of remotes, allowing for wireless entry. Sometimes, however, remotes stop working and signals are lost. To troubleshoot this situation, you can simply reset and reprogram the openers in just minutes from your garage.
Step 1
Press and hold the "Prog" button on your wireless keypad. Then press and hold the "6" key and the key with the up and down triangles. Release the buttons at the same time to reset the keypad.
Step 2
Press, in order, 3-5-7-Prog on your keypad and wait for the indicator light to blink.
Step 3
Enter your desired passcode and press the "Prog" button. Wait for the indicator light to blink twice to confirm programming.
Step 4
Press the "Learn Code" button on your keypad and enter your newly set passcode.
Step 5
Press the "arrow up/arrow down" button three times in a row to reset the keypad to your door opener.
Step 6
Press the "learn" button on the motor and press and hold the "Open" button on your remote to attempt to relearn the signal to the remote. Hold the button until the indicator light begins flashing on the remote.
Step 7
Remove and replace the batteries in the remote or keypad, and switch the power on and off on the motor before repeating the previous steps if the original troubleshooting was unsuccessful.