Things You'll Need
Christmas tree and stand

Small mixing bowl

Mixer

2/3 cup liquid starch

2 cups soap flakes

2-4 tablespoons hot water

2 drops blue food coloring (optional)

Evergreen essential oil

White or clear glitter (optional)

Small paintbrush

Safety glasses

Face mask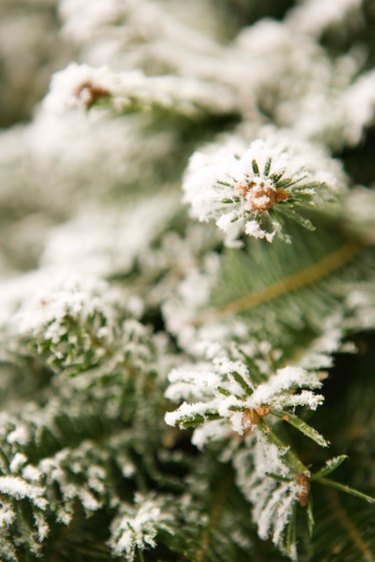 Flocked Christmas trees are popular with people desiring the look of fresh snow on their trees. Artificial pre-flocked trees are available commercially and some fresh Christmas tree vendors also offer the option of adding flocking to your tree. For a much less costly alternative, make your own flocking mixture and apply it to the tree yourself. You can also apply the mixture to pine boughs or wreaths for a snow-dusted look.
Step 1
Place the Christmas tree firmly into the stand. Stand the tree up outside on a flat solid surface away from the house, furniture or plants.
Step 2
Mix the starch and the soap flakes together. Add hot water one tablespoonful at a time, beating after each addition, until consistency is thick and peaked. Add one or two drops of blue food coloring and blend in completely. Add two to three drops of evergreen oil to mask the soap smell.
Step 3
Put on the safety goggles and face mask. Begin brushing the flocking mixture onto the tree, starting at the very top and working completely around the tree and down. Apply the flocking with quick light strokes onto the top of each branch; avoid going over the same branch while the flocking is still wet. Sprinkle the branches with the glitter while the flocking mixture is still wet for a glistening appearance. Continue applying the flocking until the entire tree is covered. Allow the tree to dry completely six to eight hours, or until no longer sticky to the touch.
Step 4
Touch up any blank spaces as needed before taking the tree inside. Allow touch-ups to dry completely. Carefully move the tree inside and stand it up in the desired location. Avoid bumping the tree branches on the house or furniture as you bring it in so the flocking does not get knocked off.
Tip
Soap flakes are no longer readily available in many areas, so you can substitute one grated bar of white Ivory soap, if desired. Grated soap should have the texture of finely shredded cheese.
Warning
Do not expose the flocked branches to open flame.