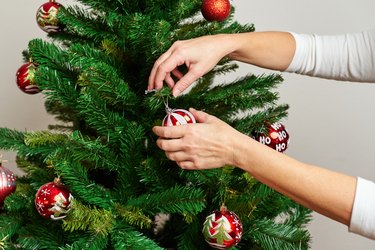 One of the primary criticisms of artificial Christmas trees is that they look fake. Understanding how to fluff an artificial Christmas tree will result in a natural-looking centerpiece for your holiday festivities that will last for years.
Benefits and Basics of Artificial Trees
Artificial trees have many benefits, including saving on the cost of buying a new tree every year, having a tree guaranteed to last the season and never having to worry about cleaning up fallen pine needles.
Some trees come with built-in lights as well, meaning there's one less thing you have to worry about buying or digging out of storage. It's worth noting that these artificial trees are made from wire wrapped in plastic, which can irritate or cut your hands and arms. Be sure to wear cloth gardening gloves and long sleeves while fluffing a Christmas tree.
How to Fluff a Christmas Tree
Artificial Christmas trees are packaged and shipped in as compact a package as possible. This means that upon their first setup, they'll look relatively scraggly and sparse. Fortunately, this is a problem with a solution. As with any assembly project, you'll start from the bottom, ensuring that the base is stable and has no wobbles and then securing the bottom-most segment of the tree.
Starting with the lowest branches and the twigs closest to the central trunk, straighten pieces to stand perpendicular to the branch they're on. If the tree's branches aren't attached with a hinge that falls to the correct angle, refer to the instructions or packaging to correctly direct them at an upward or downward slant respective to the trunk.
You can offset the twigs and sprigs so that they fan out like a peacock's tail. This is best to hide the trunk, which is often the most noticeably artificial part of the tree. Proceed up from the bottom and depending on how tall your tree is and how many sections it has, fluff out the topmost section before attaching it. This way, you can avoid trying to do this while on a ladder. The very first time will be the most time- and effort-intensive fluffing, but getting your friends and family to help you can make this process go quicker. The process in following years will be quicker and easier.
How to Accentuate Your Christmas Tree
Even if you take your time and carefully arrange each twig and sprig, fluffing the Christmas tree branches may not be enough to hide the trunk. In this event, you can take various actions to make your tree look fuller and more natural. You can use festive garlands to wrap around the trunk and branch connections and artificial poinsettia or holly sprigs between layers of branches, fleshing out the tree and creating a fuller-looking tree.
Be sure to stand back from the tree every so often and evaluate your work. See if it looks natural and where you need to adjust or fill in branches. This is how to fluff a tree methodically for the best results.
If your tree has built-in lights, try not to tug on those cables more than necessary to avoid dislodging or damaging them and plug in your tree before assembling and fluffing to ensure everything works as intended. Adding separate light strings with larger bulbs can make relatively scarce or small built-in lights really pop.