Things You'll Need
Liquid starch

Soap flakes

Blue food coloring

Water

Hand mixer

Glitter (optional)

Foam brush or paint brush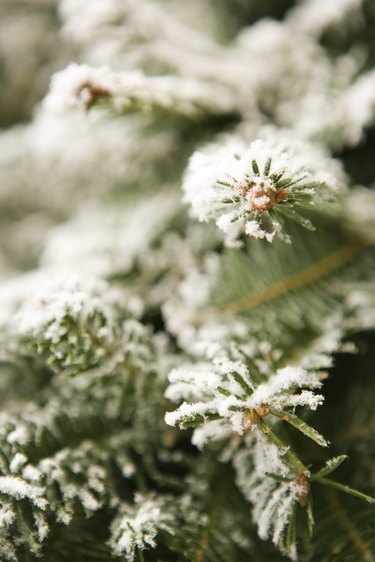 Many holiday craft projects feature snow. Fortunately for the avid crafter, commercially produced fake snow is readily available. You don't have to spend money on artificial snow products when you can make your own quickly and easily with soap flakes. All you need are some common household materials to dazzle your indoor projects and displays with the magic of winter snow.
Step 1
Stir 2/3 cups liquid starch into 2 cups of soap flakes in a medium mixing bowl. Combine thoroughly.
Step 2
Add 3 tablespoons of water a little at a time. Beat well with a hand mixer following each addition.
Step 3
Beat the fake snow until it has the consistency of meringue and forms stiff peaks.
Step 4
Add blue food coloring a drop at a time until you are satisfied with the shade of the mixture. It should look like very icy snow. Blend well after each drop of food coloring.
Step 5
Sprinkle in a little glitter, if you wish. This will give your fake snow extra shine and sparkle.
Step 6
Apply the fake snow to your project with a foam brush or paint brush. Allow it to air dry thoroughly at room temperature.
Tip
Sixteen ounces of soap flakes is equivalent to 4 1/2 cups .