Things You'll Need
Towels

Box

Tissue paper

Wrapping paper

Tape

Scissors

Ribbon

Bow

Gift card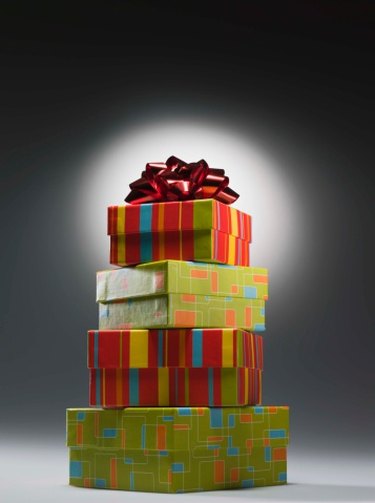 Towels can make a lovely hostess gift or a house warming gift for someone who has just gotten their first home. They also make nice bridal shower gifts and can be gifted for just about any occasion. The biggest drawback to giving towels as a gift is wrapping them. Towels can be large and bulky, and seldom come in a box of their own, which makes them challenging to wrap. Finding the correct size box to use and choosing paper that suits your gift giving theme puts you well on your way to having a beautifully wrapped gift.
Step 1
Choose tissue paper, wrapping paper, a bow and ribbon that all complement each other. Use themed paper and accessories appropriate for the occasion. For a bridal shower, for instance, select colorful bridal shower wrapping paper and choose the ribbon and bow in a color that accents the gift wrap.
Step 2
Find a box to wrap the towels in. The towels should fit comfortably in the box, without being stuffed in or having enough room to slide around. If you are giving a set of towels, consider dividing the towels up into smaller groups and wrapping several boxes instead of one large box. Line the bottom of the box with tissue paper and place the towels in the box. Cover the towels with additional tissue paper. Tape the box closed.
Step 3
Roll or spread out the wrapping paper, printed side down, on a large flat surface. Place the box upside down in the center of the paper. Bring two opposite ends of the paper together to the center of the top of the box. Have one side overlap the other by 1 or 2 inches. Trim off any excess gift wrap. Pull the paper tight to smooth out any wrinkles, and secure with tape.
Step 4
Turn the box to have one of the open sides in front of you. Fold down the top of the gift wrap along the side of the box and pull it tight . Fold both the right and left sides in to the center. Bring the bottom piece up and pull it tight. Smooth out any wrinkles and secure all pieces with tape. Flip the box around to repeat this process on the other side.
Step 5
Decorate the package with fancy ribbon, a bow and the gift card. Materials like yarn or fabric ribbon can be used instead of traditional curling ribbon. Instead of placing the ribbon in its customary spot on the center of the box, consider placing it off to the side or on the corner.
Tip
Use unique materials to wrap the box, rather than store bought wrapping paper. Fabric, newspaper or a brown grocery bag you have decorated are a few examples of handmade gift wrap.
Instead of using a box, put the towels in a large gift bag.