Things You'll Need
Men's or boys' slacks

Scissors

Plain-colored, button-up shirt

Vest

Long suit jacket or trench coat

Gold-colored buttons (optional)

Needle and thread (optional)

Knee-high stockings

Boots or shoes

Brass shoe buckles (optional)

Neck scarf or ascot

Brimmed hat

2-inch-wide ribbon

Safety pins

Long-handled canvas bag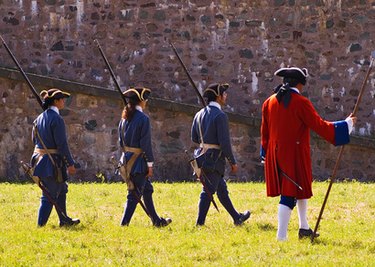 Minutemen in the Revolutionary War did not have matching, fancy uniforms as the British did. Minutemen needed to be ready to fight at a moment's notice and were often called from their daily duties to go fight. They simply dressed in their day-to-day clothing. The common dress for men in this time in history was breeches (knee-length pants), a shirt covered by a vest or knee-length coat, long stockings, shoes or boots and a wide-brim or tri-corner hat. Their outfits rarely matched, and the men were usually dressed in an array of different colors and types of clothing.
Step 1
Turn men's slacks into breeches. Cut the pant legs off about 6 inches below the knees. Leave the pants unhemmed, as they will be tucked into the tops of the knee-high socks.
Step 2
Cut and discard the collar from a plain-colored shirt. Use a long-sleeved shirt if the uniform will include a vest rather than a coat. Wear a short-sleeved shirt under a long-sleeved coat, if desired.
Step 3
Cut and discard the collar from a trench coat. Cut the coat to shorten it to knee length. Hem the coat with needle and thread or leave it unhemmed.
Step 4
Create a parade-style coat, if you wish, rather than a farmer-type coat. Cut the front of the coat off at waist length and cut the back of the coat off at knee length or longer. Cut a slit on the back of the coat from the hem to about the waist area. Remove plain buttons from the coat and pin on brass or gold-colored buttons, if you desire a fancier-looking coat.
Step 5
Put on the pants, shirt and vest or coat. Pull on the knee socks. Tuck the pant legs into the knee socks.
Step 6
Wear shoes or boots with the uniform. Pin a brass buckle onto the top edge of each shoe, if desired.
Step 7
Tie a scarf around the neck of the jacket and let the ends hang down over the shirt. Wear an ascot in place of the scarf, if you wish.
Step 8
Prepare the hat. Tie a ribbon around the base of the hat near the brim. Make a tri-corner hat if you prefer. Fold the brim of the hat in three places, evenly spaced, to rest against the hat base. Fasten the brim with safety pins to hold the hat into a three-cornered shape.
Step 9
Wear a long-handled bag or satchel over one shoulder and to the opposite side to look like an ammunition bag.
Tip
Make your Minuteman uniform one-of-a-kind for a Halloween or school play costume, or make uniforms for a group look exactly the same for parades and events.