Things You'll Need
30-inch by 5-inch gift box

2 feet tissue paper

Scarf

2 feet wrapping paper

Scotch tape

Gift tag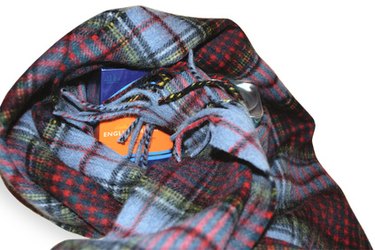 Scarves are a versatile and subtle way to change an entire outfit. Although these classic accessories make great gifts throughout the year, wrapping a scarf can prove challenging because of their soft material. Your gift presentation should reflect your thoughtfulness as much as the gift inside does. Using a gift box and layered tissue paper gives your gift a crisp and polished appearance without wrinkling the delicate scarf inside.
Step 1
Open your gift box and lay the center point of the tissue paper inside the bottom. The tissue paper should flow evenly over both longer edges of the box.
Step 2
Fold your scarf lengthwise twice until it can easily fit inside the gift box. Place the scarf inside the box over the tissue paper. Pull each side of the tissue paper over the scarf to create a double flap. Place a two-inch piece of tape over the top tissue paper flap. The tissue paper will help protect the scarf from wrinkling. Cover the gift box with the lid.
Step 3
Lay your two feet of wrapping paper on the table and place your covered gift box lid-side down in the center. This ensures that the seam where the wrapping paper meets appears on the bottom of the box. Pull one side of the wrapping paper lengthwise over the box and secure it with a two-inch strip of tape. Repeat the same process with the other side of wrapping paper. Fold the remaining ends of the wrapping paper into triangles and secure them on top of the box with a two-inch strip of tape.
Step 4
Adhere the gift tag or card to the top of the box indicating both your name and the name of the recipient.