Things You'll Need
Veil

Tiara

Invisible thread

Needle

Scissors

Stitch ripper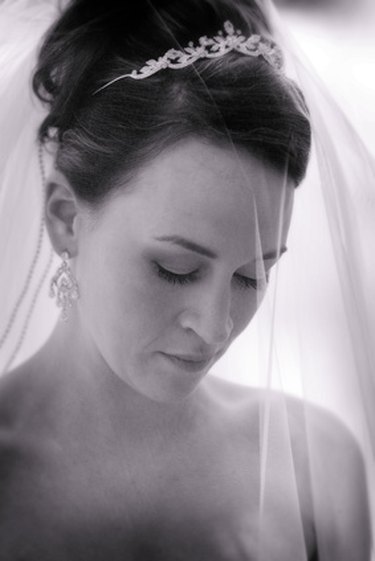 Your wedding day is an amazing opportunity to dress up and carry yourself with an air of royalty, as all eyes will be on you. A bridal tiara is one of the most popular ways to complete your wedding attire for a modern day, fairy tale atmosphere. You may also want to wear a veil with your tiara. The combination of the two headpieces may be difficult to wear if they are not connected. Only if you are wearing an updo, can the two pieces be worn together and still look lovely, as the tiara is worn above and the veil below.
Step 1
Iron your veil carefully, paying special attention to the top edge that will be attaching to the tiara. If the veil has a comb attached at the top, it will be sewn on, so you can carefully remove the stitches with a stitch ripper. Iron the edge once the comb is removed.
Step 2
Align the top edge of your veil with the bottom edge of the tiara, leaving enough room on each side for the tiara to slide into your hair. This would be at least three inches on each side. If the top of the veil is too long for this portion of the tiara, it can be gathered as you attach it, which will give you more room below for your hair. If the veil were to lie flat, it would be shorter at the back, as it drapes over your hair.
Step 3
Thread your needle and begin stitching your veil to the tiara, using small, tight stitches. The invisible thread will not be seen by your guests, as it will be covered by the veil and also by your hair. One row of stitches should be enough to hold it securely.
Step 4
Comb your hair into the style you have decided upon for the wedding. If your hair is down--or half up and half down--slide the tiara into your hair right on the top. The veil should sit behind the tiara, unless you have a blusher, then it can be gently pulled over the tiara to cover your face.
Step 5
Look into a mirror from all angles, to ensure the veil and tiara are sitting on your head as you prefer. Comb your hair in different styles, if necessary to fit your newly attached headpiece.
Tip
Some brides attach their veil with tabs outfitted with snaps or velcro strips, so the veil can be removed while the tiara remains part of your reception attire.
Warning
Ask your seamstress for help if you are a novice sewer, to avoid injuries or undesirable results.