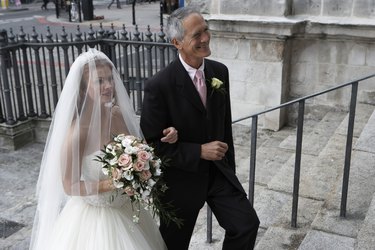 Even though outdoor weddings and receptions offer a natural decor, no bride wants to see unruly wooden or metal railings from a fence, deck, porch or balcony in her wedding pictures. Decorating with tulle will not only cover up railings, it adds an elegant and romantic atmosphere to the outdoor festivity. Mix shades of tulle in the wedding colors with classic white and ivory. With some imagination and creativity, it is relatively easy to decorate the outside railings with tulle for a wedding.
Step 1
Measure the railings that will be decorated and multiply by four to get the amount of tulle needed to complete the project.
Step 2
Add a large tulle bow to the gate or entrance of your wedding. Leave the ends long to cover the gate railings.
Step 3
Enclose tulle around the railings of stairs or bridges. Leaving parts of nicer railings open will add more nature to the decor.
Step 4
Wrap tulle around unsightly beams.
Step 5
Drape long swags around the railings of balconies and decks.
Step 6
Attach tulle from railing posts to the center of the roof and drape a swag form to meet in the middle. Hang balloons, a ball or flowers in the center.
Step 7
Swag tulle along the fence; fasten at each post with a large bow made out of ribbon in a complementary fabric and color. Perhaps add flowers in the center of the bow.
Tip
Add a garland of tulle pom-poms to railings, or use as ties around posts. Twist two or three colors of tulle together before attaching to railings. Add embellishments to the tulle, such as seashells, flowers or crystals. Drape a strand of beads or pearls around the outside of the tulle. Create a romantic ambiance by adding Christmas lights. Blend tulle with other fabrics, such as silk, to match your theme. Decorate gazebos with tulle and silk flowers.
Warning
Never leave lights plugged in when unattended.